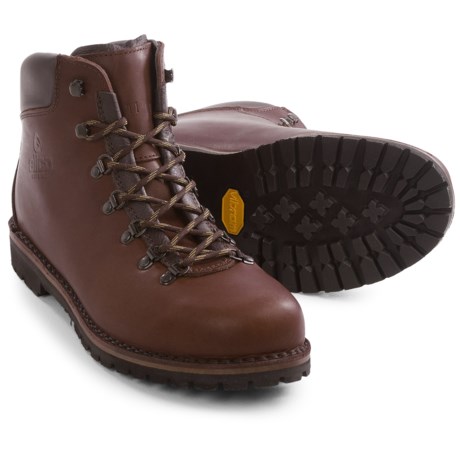 Not quite sure what you mean as I have never discerned a noticeable difference.
What I will say is that I have a rather wide foot and a high arch; these are the most
comfortable new boots I can ever remember finding. The fit is excellent and the
craftsmanship stellar. The only catch is that the 'break-in' is serious but that's easily
remedied with a few good long hikes or several days just wearing them. Worth the
effort and the price is incredible for handmade Italian hiking boots.
Go for it!!!

Like a work boot! The Alico Tahoe has quite a lot of interior volume. I tried a smaller size when I noticed the boot's volume, but chose the larger size for the length that I needed. To take up some volume, I purchased a pair of high quality insoles ("Sole" brand) and new medium thickness Smartwool hiking socks. The boots then benefit from a break-in period of a few day hikes. Also, check out the boot lacing pattern alternatives on this Sierra site. After break-in, I headed out backpacking overnight, with a good load of camera gear, traveling in very rugged Rocky Mountain terrain. The Alicos were in their element on this trip, and performed wonderfully -- supportive, comfortable, no hot spots, and good protection. Athletic shoe? No, although with the volume taken up as I described, these boots will have good overall contact as they continue to soften and mold to your feet. Athletic shoe? No. The Alicos are built with Norwegian welt outsole construction. A Salomon light hiker would be the athletic shoe comparable.