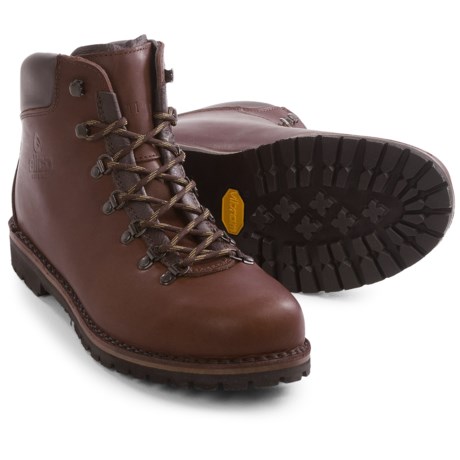 Quality Light-Weight Hiking Boots
Reviewed by Photo Mike from Sourland Mountains, NJ on Tuesday, March 5, 2013
Originally bought at pair of the Alico Guides (not the New Guides) in the mid-90's. Beat them beyond belief, the boots took it and asked for more. It wasn't until 12 years later that I ripped an eyelet through the leather by accident. Disappointment understates my emotion at the time. I then saw them (Guides) on STP in 2007. Didn't buy them figuring I would wait until I moved to another state. Well, Alico must have discontinued them and I started to review the Tahoes and New Guides. The New Guides didn't quite fit the bill as they were a touch stiffer than the Guides, but the fit was drastically different (narrow in the arch, wide in the toe...my feet are the opposite). Had to return them. Decided to get a pair of the Tahoe's to try out. If they didn't work , I'd relegate them to chores and arbor work. Fit well right out of the box and are extremely comfortable. The ankle support is substantially less than the Guides, but as I discovered, I usually don't need such a stiff boot. I liked them so much I recently purchased another 2 pairs in case they are discontinued.

Use Nikwax (in the tube, not the applicator bottle) to keep the leather conditioned at least 1x per year. The applicator bottle keeps the leather conditioned, but nowhere nearly as well as the tube product. My brother failed to condition his Tahoe's and the leather is suffering. Don't worry about if the boot gets darker after it is conditioned. It will lighten up over time. *** Get a good pair of insoles that match your feet and arches. I wore the first pair way too long with the stock 'place holder' insoles and they broke in a bit flat (on account of my Fred Flintstone feet). Superfeet Blue insoles really made the difference when I broke in the 2nd pair. ***

So far, I got 2 years on my first pair and I expect them to last another 2 years before I get them resoled. Neither of the new pairs will be worn until the first pair gets resoled. I'm looking forward to NOT buying another pair of light-hiking boots for 20 years. Thanks, STP, for offering a dying breed of boots! .Other MFGs produce Norwegian welt, one-piece boots. The quality provided by Alico is top shelf short of spending 4x as much for a pair of Limmers.

STP, Can find the original Alico Guides?


Similar items and more information in the following areas: