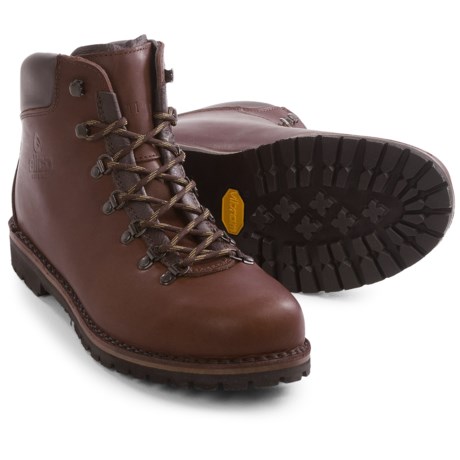 Superb
Reviewed by Northlander from So.Minn. on Sunday, August 25, 2013
These leather boots are beautiful indeed. I purchased a pair nearly 3 years ago and intended to use them strictly for hiking and backpacking. I have not gone on any backpacking trips since then but discovered these make remarkably effective and affordable motorcycling footwear. I've put >14,000 miles on these along with my sport-touring VFR800 and am purely satisfied. I ride in all weather: sun, rain, and cold (down to the mid 30's even). These boots graciously accommodate my wool socks and provide the strength and durability i require for protectiveness at high speeds and also the warmth and impermeability i desire during inclimate moments.

The oiled leather breaks-in gradually and personally. I recommend a fit that is immediately comfortable and almost snug. I almost returned the pair i bought but due to concerns they might be too tight. As they were NOT uncomfortable i kept them and have been only pleased with that decision.

Over time and use the finish has worn slightly. They are still beauties and i regularly apply leather dressing (using Montana Pitch-blend) which is essential to preserving these boots with the level of use I've enjoyed. Not a single loose thread, tear, or missing piece of material to date.

Overall--don't hesitate; splurge; and enjoy these quality classics for YEARS to come.
Similar items and more information in the following areas: