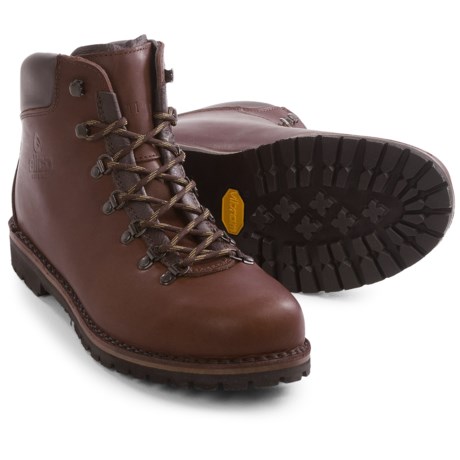 Great Boot Part 2
Reviewed by Bluegrassblazer from Kentucky on Sunday, January 19, 2014
I broke my own rule on my first review and didn't include technical info about fit and feel so...here goes.
The liner is crappola. I tossed it and put in some super feet green insoles and they felt great. Break in is glacial. These things are stiff out of the box and take effort to make comfortable. I wore them to work for several weeks and when ever I could before taking them on a hike.
Once broken in...or at least sort of broken in...they felt a lot better. My first hike was good and every subsequent hike was better as the boot relaxed a little. The only problem, as I mentioned in my other review, was tired legs from the weight of these things.
There is a lot of room in the box toe which is good for me since I broke two toes years ago and they set a little crooked.
I usually wear a 10.5 or 11. I seem to remember that when I got these, they were listed in European sizes so I either got the 11 or a little larger. I'm glad I did as they fit great. These are not insulated and are not suited for long term snow conditions but getting a little bigger lets me use a liner and a thick hiking sock which gives me extended time when I do wear them in the snow.
The vibram soles let me grip on all kinds of surfaces. Some really wet surfaces are a little slick but as the soles wear I think they'll grip a little better.
At this stage of my life, and with the longevity I expect out of these boots, I will bet these will be the last hikers I buy and I'm looking forward to many happy miles.
Similar items and more information in the following areas: