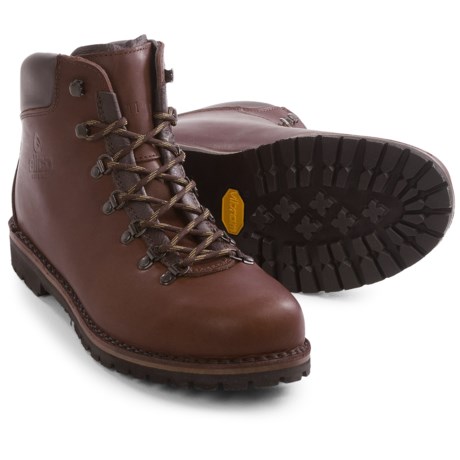 Quite impressed with this boot
Reviewed by Bullfrog from Blue Ridge mountains of VA on Thursday, July 31, 2014
After a week of hiking steep rocky terrain in Acadia this summer I decided (given my age and feet) that I needed a more robust boot with better ankle support than my modern lightweight hiking shoes with glued on soles were delivering. I started thinking back to my first pair of serious hiking boots that I got while still in high school back in the mid seventies - a pair of leather Norwegian welt Vasques with stiff vibram soles that I bought at the original EMS store on Commonwealth Ave in Boston (what a cool store back then). Those puppies were with me through many multi-day backpacking trips in my teens and twenties and went many miles before getting resoled and put back in duty. Truth be told, I'd maybe still have them today were it not for buying into the lightweight, cooler, more waterproof, synthetic hiking shoes and boots that started to appear and replace the old-school leather handcrafted boots of the day. After doing some research online this summer and even thinking about ordering a pair of custom Limmer boots (and a 2 year wait!) I decided to give the Alicos a try - kind of a no brainer given the cost of admission.

My feet are about dead-on size eleven with medium width when measured, so I went ahead and ordered a pair of Tahoes in that size that I received this week. First of all, I can't believe that it is possible to even buy a new boot of this quality (i.e., given materials, design and workmanship) at the current closeout price (especially with great discount on top of that). These are easily ~$300 boots in my opinion. I was absolutely delighted to put them on with my favorite mid weight hiking socks and realize that they fit like they were made for my feet. Granted, everyone's feet are different so YMMV but I'd have to say that these are about as true to size as I could expect (relieved I have no need to send them back for another size). The final proof will be revealed after a few weeks of hiking in the Blue Ridge this summer and fall but these seem to be just what I was looking for - a light to mid weight leather boot with great support and stability for my feet. As expected based on what others have said, I plan to replace the stock insoles with some Superfeet (maybe the Copper - I think I've got the volume for this). Also, it already seems as though the Tahoes will be pretty easy to break in.

I went back and forth on whether to get the Summits instead but I'm glad that I went with the Tahoes. I think they will give me what I want for day trips with a hydration pack for scrambling up rocky trails and bouldering around.

So far I am very pleased with this purchase and I'm really quite amazed that this type of handcrafted quality and modern design in a leather Norwegian welt can be had at this price. I'm not so sure I'll need to keep lusting after those Limmers....
Similar items and more information in the following areas: