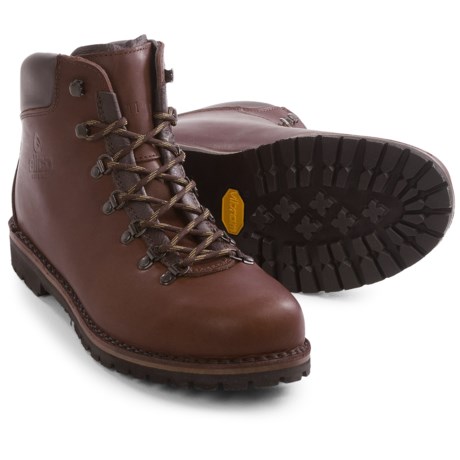 Nicely Made Traditional Hiking Boots
Verified Buyer
Reviewed by Old Man from Lost on the trail on Monday, May 4, 2015
Very nicely made. I saw no imperfections and the tongues center and stay centered well. I would recommend polishing with a neutral cream polish that contents a preservative old. Both the French and Swiss military issue kits with the perfect preservative cream without the oiliness of the oil treatments. Seal the stitching with a water proofing and they will be find for the occasional stream crossing.

The sizing for this boot is spot on in my opinion but some may initially like a 1/2 size large. The boots are traditionally made and require some break-in. If you have not had traditionally constructed leather boots with sewn welts, and are used to bonded or sneaker construction you may feel the boots are too tight and not comfortable. If this is the case you may like a 1/2 size larger. But doing so you will lose some support after use of the boots for awhile. If you are used to breaking in boots, meaning you are likely over 50 years old, these will fit wonderfully and break in well. But it takes time and gradually increasing use. Those not used to breaking in boots will likely send them back unnecessarily as being stiff and tight. IF you can stand with lacing snug and not discomfort or movement when first put on they are OK. DONOT get them too long it will limit down hill use.. the foot cannot mover around or slide foreward. about .4-.5" or 1cm longer than your longest toe is enough.

IF your old boots are toast and you need them for a big hike right away... plan on going slowly... and accept lacing tight to prevent movement. That is an old trick I learned long ago walking slowly will prevent much of the break in woes of blisters and the like. They will feel tight and stiff... that is the way all traditionally constructed leather boots are if you want good fit and support with long life later. Go slow and you will not develop problems.

Similar items and more information in the following areas: