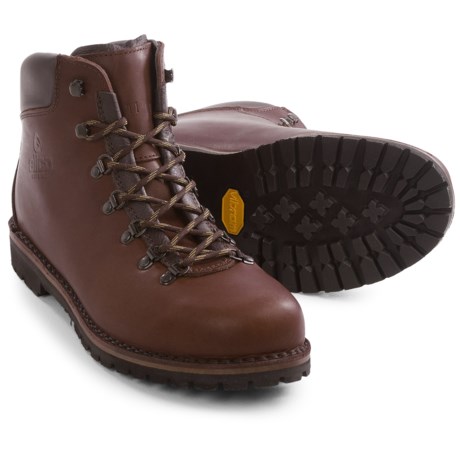 So grateful to have the Alico Tahoe Hiking Boot!
Reviewed by Winter Hiker from NC on Wednesday, May 6, 2015
Sierra Trading is where I got the boots. I get their sale coupons/pricing by email. The Vasque hiking boot (handmade by Italian cobblers) that I LOVED, wore and hiked in all over the world for many years appears to be the same design as the Backcountry boot below...but the Vibraum sole finally came half off when I was hiking in snow and ice...not good....but it did happen after MANY years of wear.

I recently purchased the Alico Tahoe when it was on sale for $119.00. Stitched sole, handmade in Italy by Italian cobblers, amazing leather, weatherproof...much like the original Vasque boot I had but the Tahoe is probably a better quality....the Vasque replacement boot Vasque is selling now is a POOR copy made in China....no craftsmanship in the Vasque boot!

I always wear a thin undersock and a THICK hiking sock to protect my feet....no blisters! Break in has been nonexistent...been on three hikes on the newbies and my feet feel great. The hikes are easier and I am surefooted on tough trails. Of course, part of the "magic" is the lacing technique. I did not seriously consider the Alico Summit....too heavy and too high for me. The ankle support on either the Backcountry boot or the Tahoe are plenty for the conditions I trek in. I sized up half a size to accommodate the THICK socks I wear over a pair of thin liner socks....even in July and August. A "just in case" is to keep the Johnson and Johnson Band-Aid Advanced healing Blister Ampoules with you....they will keep a blister from bursting if put on immediately....a lesson I have learned since I have had to wear the cheap Vasque replacements...which gave me blisters.... until my amazing new Alcio Tahoe's recently entered my life!

Everyone is different....from body to feet to how and when they hike/trek and what footwear is appropriate in their unique situations....these work for me.

Similar items and more information in the following areas: