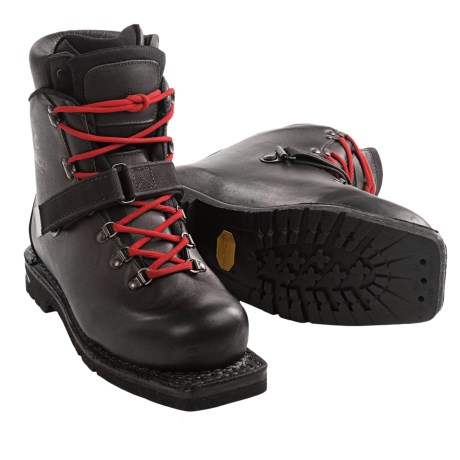 No major complaints; old school quality.
Reviewed by Horse from Oz on Monday, August 3, 2009
There are a couple of reviews on here that effectively amount to "They look good out of the box". This wasn't any use when I was deciding whether to buy them, so I decided to write something more expansive.

I guessed at my size, but it wasn't a difficult guess because I already owned two other pairs of Alico hiking boots that are sold on STP. I got the men's US11, which was stamped "44" on the inner boot, and "45" on the outer boot. I take a mondopoint 29. I tested them over two overnight weekend trips with a full overnight pack, covering roughly 20km of terrain rolling up and down over 500 vertical metres. One was sunny conditions, and one was a whiteout in a blizzard. I would have liked to do greater distances, but weather and company didn't allow.

My initial impression out of the box is that they're pretty big and heavy for a boot, because the sole does weigh a lot, and there's no skimping on any of the materials or construction anywhere. When actually wearing them, I didn't notice this, so they're not heavy enough to be obstructive. The laces on the pair I received were black, not red like the picture (I'm not fussed). I have a low volume foot, so I cut out a pair of insoles from 3mm cork/rubber gasket material to take up the extra space (I do this to all my boots, except Crispis, which are meant for low volume feet anyway).

I like the combination of ankle freedom and stiffness. I previously had a pair of Garmont leather boots that only just covered the ankle. They were a single boot, rather than a outer + inner combination, and I found that the sole allowed sufficient torsion to allow the heel to twist off the top of the ski. These don't have this problem; the leather is stiff, and there are integral stiffners up the ankle (like you find on the toe caps of most leather shoes, only stiffer).

This general stiffness stops me pulling the laces as tight as I would like. Obviously, this is something that I'll have to persuade the boot to do over time, not a couple of weekends. The inner boot is excellent; fully leather outer, 2mm-ish rubber sheet sole, and the tongue is the most padded tongue I've ever seen. It's pretty fat. I'm impressed at how well it pulls around the foot; it feels like it fits better than my heat-moldable liners in my plastic boots. They'll be good hut boots, if I'm ever lucky enough to score a place in a hut.

The outer boot is held to the sole with a double-stitched, resin-sealed norwegian welt, and the leather itself seems to be impregnated with some sort of silicone stuff, because it's impervious to both water and wax. I stuck the wax on anyway just to be sure, and to seal the nylon taffeta lining the tongue (the tongue lining is a single piece of taffeta along the back, with the leather tongue stitched onto it on the front layer so as to minimise stitching holes). The boot stayed dry despite being dunked in streams a couple of times. Not surprisingly, it also breathes a lot better than Excursion/T-4 class boots while giving the same performance.

Altogether, it's a great boot that I would choose in preference to a low-cuff plastic boot, but it does have some disadvantages:

The heel is a standard hiking boot heel with the tele groove around the back. However, tele boots have slightly thin heels to allow them to fit into cartridge bindings like Rotte Cobras, G3 Targas, and Voile Hardwires. These boots don't fit cartridge bindings too well. I don't use cartridge bindings in the backcountry on multi-day trips, so this doesn't affect me.

I don't think there are enough eyelets/hooks on he outer boot. I'm constantly wanting to tighten it, but don't have the leverage around the cuff due to the speed-lace hooks being too sparsely spaced. I think the boots would be better with the same lacing configuration as Alico's Guides.

The velcro strap is useless (it doesn't pull anything tighter or hold your heel in), collects snow and ice like crazy on the velcro side, and gets in the way because it is too long. I'm going to pull mine off and put an aftermarket one on.

They're pretty expensive. I know they're really two pairs of boots (inner and outer), they're a lower volume item of stock, and the outer leather is very thick and has been treated, but it's hard not to compare the price and picture to that of the Alico Guides and hesitate.

Despite that, if you can get them on one of STP's 30% discounts I think, for the fun and comfort you have wearing them, they represent good value and I am glad to have a pair.
Cons: Difficult Lacing System
Describe Yourself: Collegiate/Pro
Pros: Comfortable, Look Cool, Quality Construction, Warm
Sizing: Feels true to size
Width: Feels true to width
Most helpful positive reviews
Most helpful negative reviews
Similar items and more information in the following areas: