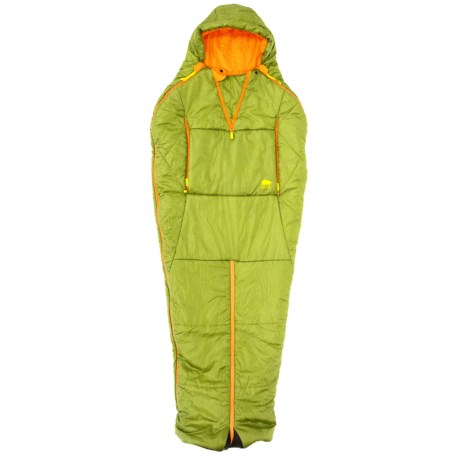 Sexy Function
Verified Buyer
Reviewed by Eve Van Wilder from Mountains of Idaho on Wednesday, August 3, 2016
I got this bag on clearance and it was only available in large, which actually is probably a good thing. I'm 5ft 3in and I have a lot more room to sleep on my side or in any other non-back sleeping position. A lot to say, but:

PROS: reading in sleeping bag while keeping arms warm; front pocket for hands if they are out of the bag + storage; SUPER comfy; leg zipper in middle makes for good ventilation/kicking one foot out if needed; the side zippers (for zipping to another bag) also make it easy to kick a leg out/ventilation/odd sleeping positions.

CONS: Doesn't fit tall & large, muscular men (more below); arm zippers fall well below armpit so you can only use your lower arms like a T-Rex/can't reach up or above you well; ugly colors (this is personal & doesn't affect function or value to me); the 'legs' are designed for naked sleeping or seriously model-skinny leg types (very disappointing!); fabric on feet isn't canvas, more like standard sleeping bag material and would not be strong enough for walking around in a rocky/wood strewn area - be very careful.

My 6ft 1in 220lb boyfriend who is an athlete/weight lifting type did not fit into this bag. It was extremely tight and he had no ability to move. The leg buttons securing the legs together would not button over his thighs. (They don't button over my thighs either, I have muscular legs) A 6ft 3in friend tried it on, but he's only 155lbs and is extremely thin, and was comfortable, but his T-Rex arm problem was even worse as the arm opening was further away from armpit/shoulder. He liked it overall though for the function of it.

I LOVE it for the functions, it just needs some tweaking or better sizing information. I'd be interested to try on a small (up to 5ft 9in height) one. If you're a slender/avg person this is great. If you're close to size limit and a muscular/XL person, it might be tight. I love the design with all my heart and enjoy sleeping in it every time. Also, it really depends on what positions you sleep in. This has zippers in awesome spots for legs out and creating more room with another blanket tucked in/outside. I do wish there was a diff color/pattern.
Most helpful positive reviews
Most helpful negative reviews
Similar items and more information in the following areas: