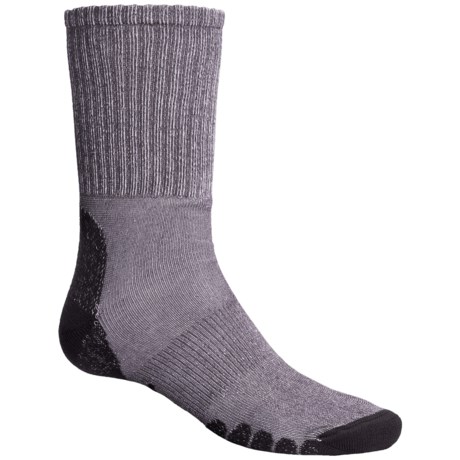 Yes

A size medium was very comfortable for my daughter who has a size 8.5 W foot.

I wear an 11 and the large fit well, I would go with a medium

I also wear an 8.5 and bought the medium. I've worn the. Several times and the are just the right fit. I bought he large for my husband and they were too big for my foot.

I'm a size 9.5 and they fit perfectly.

Betsy, to be honest, the socks are still sitting in their packaging. My hiking trip is this weekend. My wife has a size 9 foot, I'll ask her opinion and get back to you.

I suggest "medium".

I usually buy these for my husband. He wears a size 10 (mens) and I buy large. I would say that an 8 1/2 woman could wear a medium comfortably. (I am an 8, and that's what I'd do.)

Go with the medium, it is sized for Womens size 8 - 10.

If you didn't know, if you put your mouse cursor over a size box and don't move it (the mouse), a popup will appear with the sizing details for that size.

I wear 8.5 shoe size also. These socks are a bit long from heel to toe however, they are exactly what they say ! The are CoolMax and feel great on my feet.

yes - I think so. I wear 9 Women's and it feels perfect for me.

They would be too big for you in the size I bought. My wife is a size 10 and they fit her fine.

Betsy, I have a better answer for you today. My daughter (8.5 foot) tried on the socks and said they felt great. I think she was a bit jealous I didn't give her a pair. My son hiked 8 miles with them in preparation for a 100 mile hike in Utah. He said they were great and asked for 3 pairs for his trip. He mentioned that he took them off during a lunch break, turned them inside out and was pleased to see that they dried by the end of lunch.