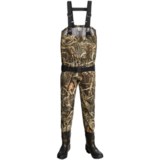 Closeouts. Perfect for both waterfowl hunting and fishing, Allen Co.'s Blue Bill Camo breathable waders are constructed of durable, premium-grade waterproof breathable fabric with soft tricot lining, built-in suspenders, and attached, insulated and cleated boots.
Average Rating based on
12
reviews
4.000000
0
5
Verified Buyer

Reviewed by Yooper from Twin Cities, MN on Tuesday, October 6, 2015

The waders are light weight but appear strong enough to endure the rigors of run and gun duck hunting. I've only worn them to put my boat in the water for fishing; I haven't tried them in boot-sucking mud out hunting yet. My only concern is the seeming looseness of the boots. Maybe I should have gotten a size smaller (I wear and bought a size 8). Maybe a foot pad insert and/or extra thick socks will make the boots fit tight enough to keep them in place when walking through mucky ground. We'll see.

Reviewed by JT from Louisiana on Saturday, August 22, 2015

I've had these a year so far and am very pleased with them. I bought these as early season waders but ended up wearing them all season because they were so much more comfortable than my neoprene ones. They feel like you're just wearing a pair of pants and rubber boots. Not binding and stiff like neoprene. I mainly hunt out of a pit blind in Louisiana so I was able to use these all season. The only time I got cold in them was hunting flooded timber late into the second split where we were in waist deep water. Other than that, no leaks, no tears. The shell holders could be slightly larger, but that's no biggie. Great deal for the money.

Reviewed by Texas Fish'nFowl from World Travels on Sunday, April 26, 2015

Used this past season and no complaints. You can and should order one size smaller boot than normal shoe size. Wear a 10 and the 9's fit perfect with heavy or water socks. No leaks and they clean up easy. Clean, dry and store properly and they will last many years. At or near $100 deal and these are a bargain! Only thing I would have added is a shell holder, but the pouch serves this purpose as well.

Reviewed by Kristen from Humboldt County, CA on Sunday, January 11, 2015

I ordered a boot size 9 (no options for hip/chest sizing). Too tight! I am 5' 10 tall and a woman's size 14 jean, woman's shoe size 11 and a curvy 180#. The boot fit fine, but the hips and midsection were too tight. Granted men don't have hips like mine, but that midsection sizing! No beer guts need apply! If you are a 6 foot tall guy that wears a 34 - 36 inch waist, maybe 38", these would fit nice and roomy, like breathable waders should. They don't stretch, like neoprene waders, but are cut close to body like neoprene = bad fit with no freedom of movement. So guys, these might work for you, but ladies, unless you are a dress size 10 or smaller with no a$$ and huge feet, look elsewhere!

Verified Buyer

Reviewed by Charlie's Catch from New Hampshire on Sunday, November 16, 2014

Light weight comfortable and the 600 gram insulation in the boots keeps your feet warm when standing in 35 degree water. Love em!

Verified Buyer

Reviewed by Flatlander from South Dakota on Monday, November 10, 2014

Light, comfortable. The size 8 was too large and exchanged for a 7. Good fit.

Reviewed by Major Smith from Wisconsin on Saturday, November 1, 2014

I got these waders to replace some breathable ones that I wore out. Overall I'm very happy with them. They seen to hold up to water fowl hunting well. Boots are warm but seen to run 1 size large even when you have on a heavy hunting socks. So I would order down 1 size. I also replaced the wader belt to a different one from the waders I replaces. I think the shell loops are a little low also but it's nice they are even there. I would recommend these wader for the price STP has them for.

Verified Buyer

Reviewed by bob the marsh man from wisconsin on Friday, September 12, 2014

I have used these waders six times since I got them two weeks ago. They work well for trout fishing and slogging through marshes. You do not sweat like you do with neoprene. So far they are durable enough. Make sure you order your show size as boots are plenty large. Do not up size.

Verified Buyer

Reviewed by Me from MS on Thursday, August 28, 2014

I can only give these a 3 star rating for now because they look and fit exactly as expected, and a quick trip into the pool proves they work for now, but these were brought for duck hunting and only time will tell when I am out sloshing around in duck holes, brushing against sticks, etc.

I'll try and remember to update after the season.

A few design critiques just from my trip into the pool. Chest pocket for storage is not seam sealed, so if I do get into some really high water where the waders still have me covered, anything in that pocket is going to get wet. In addition to sealing the seams they could really make it nice by changing the flap to water tight roll down system like a dry bag so you could really keep everything in it dry.

Verified Buyer

Reviewed by HD from Alaska on Tuesday, August 19, 2014

We use these in Alaska for fall goose hunting on tundra. Heavy, neoprene waders aren't needed, rather waders that are durable, light and waterproof are most helpful. These waders from Allen Co. fit the bill exactly.