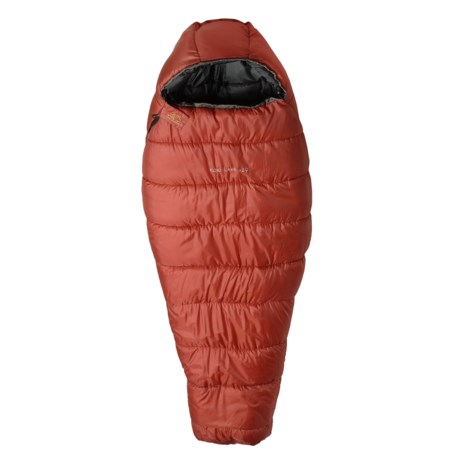 Value for the price, but a litte more gets you a much better bag.
Reviewed by Steve Basset from Virginia on Wednesday, May 28, 2014
With coupon, I got this bag for my daughter for $30. That's a bargain. I can get this into my gregory internal frame, and at 4lbs, it's bulky but fine for car camping and overnight backpacking trips. It LOOKS nice. But if you spend $30 more, the a bag like the Marmot Sorcerer is a MUCH nicer.

So why 2 stars?

- This isn't stuffed with fill, the fill is in layers. As a result, there is no loft, and just not as comfy as a result. This also means it doesn't compress well. I would think that over time that these rather thin 'layers' would wear out and make cold spots. The polyester layers reminds me of the polyester that they use in sofa cushions to add fluff between the cushion and cover. It's not loose fill, therefore forget fluffing it up or much loft.

- The zipper is very cheap, it feels like you could break it without much effort.

Compare this with the Sorcerer that has much more loft, less weight, compresses better, and has a nice zipper. I'll put it this was, the Sorcerer is closer to a high end bag than the echo lake is to the sorcerer. Spend the $30 and get something better.

Will it do it's job? Sure it will, and for $30, it's a bargain. It's perfect for my daughter. It's fine for a child, as a backup bag, or as a spare/loaner/emergency bag to have on hand. I was tempted to give it 3 stars just for value, but I think you can do better for a little more.