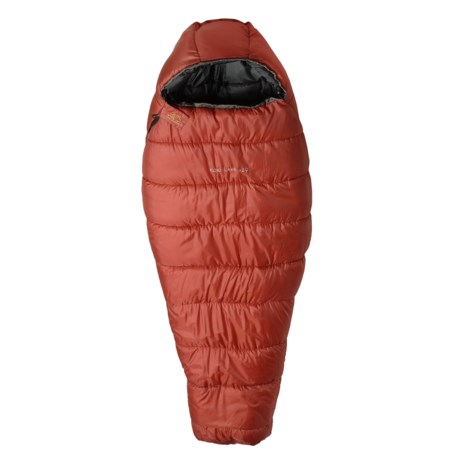 Budget option for car camping in winter
Reviewed by David from Denver, CO on Sunday, April 17, 2016
I bought this bag primarily for winter car camping in temperatures that might drop as low as -10. In the future there's the possibility of loading it on a pulk, although that's not very important to me right now.

First, the good. This bag has a lot of insulation and is warm. I've slept with it down to about 15 degrees and didn't even need to zip it up all the way. I hate having to worry about getting my bag wet when winter camping so synthetic fill is a plus for me, but I recognize it's not for everyone.

Second, the bad. This bag doesn't compact very well and is heavy - heavier than my 3 season tents. It is not something you'd want to carry on your back and pushes the limits of what you'd load on a pulk. It also lacks a draft collar, which is surprising given its temperature rating. I would not expect this to keep me comfortable down to -20* F, and anything subzero I'd probably want a liner or extra blanket. I can't say that for certain, though, because I haven't had a chance to use it in those temperatures yet.

In all, it's definitely worth it for the price (~$50-$70 or so) if you're not concerned about portability, weight, or size.

The bag only comes with a stuff sack, no storage sack. Just a public service reminder: don't store your sleeping bags in their stuff sacks because compressing the filling decreases the bag's ability to keep you warm.