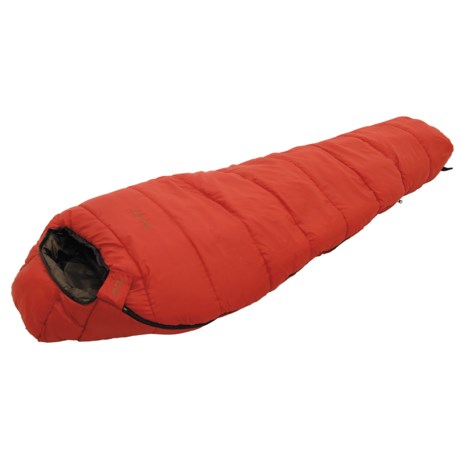 Good quality at a great price.
Reviewed by Pale Rider from Rocky Mountains on Sunday, December 16, 2012
I work for the DOW and I'm an avid outdoorsman. Spend a great deal of time in the wild and base my oppinions on experience not armchair gear snobbery.

If you're buying a SYNTHETIC fill bag, this is the way to go. First bought one to replace a 20F Marmot that cost 4X's as much and this is every bit as good. I'm buying another because the sale price is too hard to pass up. Use it for 3 season backpacking in Colorado. I also have an Alps 0F bag for hunting season. Are there better bags? Yes, but at this price point I'm giving it 5 stars.

Going to mention a few things about sleeping bags because based on many of the reviews it seems a lot of folks have unrealistic expectations...

Synthetic filled bags pack larger and weigh more than down bags of the same temp performance. Trade off is they are cheaper, easier to clean, and dry out much faster. Synthetic bags will compress smaller than the stuff sacks they come with if you use a well designed compression sack (Alps "Cyclone" is the best I've found). You can spend a lot more for a down bag to save a lb and some space, but don't get it wet while camping.

No matter what type of bag or temp rating it has, if you don't insulate yourself from the ground it's gonna be a cold night.

Layers increase insulation. It's the same prinicple as in clothing or windows. They make liners for a reason. If you are the least bit crafty you can easily make your own.

How you store a bag will have a big effect on the performance over time. Bags should NEVER be stored compressed as it ruins the fill. I store mine loosely folded in large tupperware containers.

When it comes to synthetic filled bags, there are many more expensive choices than this, but you're generally just paying for the trendy name. There are some new synthectic fills with better performance, but expect to pay A LOT more.
Similar items and more information in the following areas: