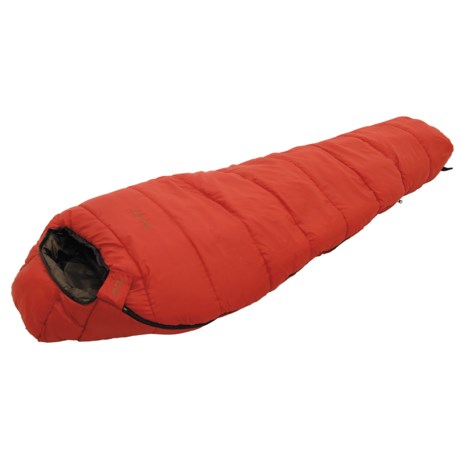 Good Value
Reviewed by Wizzer from Colorado on Wednesday, August 17, 2016
Good Value / Great price (got it for under $30 with all the additional sale discounts). This is a decent 20 degree bag for car camping, primitive cabin, or even in a pop-up camper. Note the product is not excessively large or heavy but it is not for backpacking (the 3lb 12oz item weight should've been your first hint..... a 20 degree backpacker should weigh 2lb 8oz or less, be of compressible material like down or primaloft, and cost around $150 to $200). This bag is also for people under 6 feet tall, if you are pushing that limit you may want to opt for a different bag. I bought this bag primarily for my 5ft 0in middle school child to take on a class field trip into the Colorado mountains for a few nights. This sleeper does have a draft tube along the inside part of the zipper but there is no tube across the chest/neck area. The inside touchable material is like the outside (not flannel). My only real issue with this bag is that there is a designed hole at the bottom of the zipper towards the feet. There is material there meant to hide it but one can stick their finger through this hole/passage from the outside of the bag to the inside..What the heck?...... I guess the spiders need to keep warm too!
Bottom line: If you need a 20 degree (this is more of a survival rating than a comfort rating) bag for wife or kids and/or male that is not too tall and it is not for backpacking, then this is a pretty good bag relative the $29.96 that I paid. I may even try to use it myself if car-camping before my next 14er instead of risking a tear in my zero-down bag. (i'm 5'11'' and I would not buy this bag for myself if I was any taller.
NOTE: You will NOT need a compression sack. It comes with a nice sack that can be used for transport or storage. This is NOT a down or down-alternative bag which must be stored loose to maintain loft and transported in a stuff sack for backpacking..
Similar items and more information in the following areas: