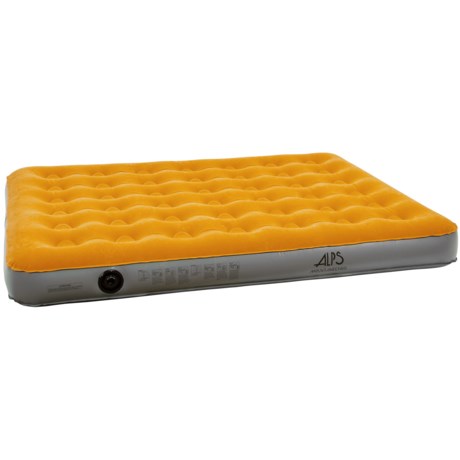 Exactly what I was looking for!
Verified Buyer
Reviewed by Ryan from Washington on Tuesday, August 12, 2014
I bought this air mattress for camping and to be a guest bed in our house. I wanted queen size and for it to include a pump that is battery operated but can also be plugged in if batteries are dead. This fit the bill and also included a car adapter, even better. The pump is very strong, although a bit loud. I love the bag it comes in, it's easy to fit back into the bag and also has room for the pump and charging adapters. It seemed to hold air very well on our first trip, it did lose a little firmness but I would attribute that to the temperature change over night.

I would rather it use rechargeable batteries that are replaceable because they never last forever. I would prefer that the pump / air intake not be such a proprietary fitting so that other pumps or manual pumps could be used in a pinch. It is a very good design that allows you to remove the pump without air loss, but you will inevitably forget the pump, not have the pump charged, have the pump eventually fail, or something that will leave you out of luck.

I really wanted a double-height air mattress that fit all my needs, but it doesn't appear that one exists. Hopefully there will be some day. I'm happy with this one anyway.

It seems that this model might be discontinued as I had a very hard time finding it in stock anywhere. So kudos to Sierra Trading Post for having it, and at a fantastic price. But I'll plead here to the manufacturer to continue making it because I'd recommend it to all my friends/family.