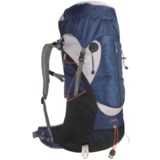 Closeouts. Climb to new heights with the spacious and convenient ALPS Mountaineering Ascent 3900 backpack. Side zips provide quick access to the main compartment, and the padded, adjustable shoulder harness helps you haul large loads comfortably.
Average Rating based on
11
reviews
4.181818
0
5
Verified Buyer

Reviewed by Kyle Wassell from California on Wednesday, May 21, 2014

I have not taken this on a backpacking trip yet but as I have loaded down with weight (30-35 lbs) and hiked around it has done well. The straps are solid; the zippers could be a little stronger but have not given away yet; and for my frame (6'4'') it fits like a glove when the should straps are moved up to the highest position. The only gripe I really have is the lack of straps on the outside for tightening down the bag - instead it uses a bungy-like cord that is woven throughout the bag. But this also leaves no real place to put a sleeping pad if the bag is full.

I am impressed and ready to take it out in the backcountry for a real test!



Verified Buyer

Reviewed by ispinrifles from West Columbia, South Carolina on Wednesday, May 14, 2014

The pack is very comfortable, to me. It has a lot of room to pack many things. I like the fact it has a slot to put a water bladder. That easy I don't have to carry and extra camel back. The straps are well padded making it feel as if nothing is there.

Reviewed by Brock from Illinois on Monday, May 5, 2014

Got this for the bid idea that I want to backpack now. The price is right and the quality seems solid. As usual I relentlessly research before I purchase. I was going back and forth between this and REI Mars which is a little bigger, but the price point on this is hard to pass up, and ALPS has a lifetime warranty and seems like a solid company.
This thing holds everything I need however I wished it had more external pockets and tie down points. It does have the 2 black pockets made out of a sort of spandex, it will fit quite a bit including 1 liter water bottle in each size, almost seemed too tight but it did stretch and did NOT rip. It has one handy pocket on the waist belt you can keep keys, lip balm, small sunscreen container. Also there are a top and bottom lid pocket, I just wished there were a few external pockets to keep things a little more organized.
I strapped the sleeping pad to the bottom loops but tends to flop around a bit, but this is probably due to my lack of experience backpacking or loading backpacks.
It is comfortable enough, It weighed in at about 35 lbs. for a night or two packed in.
The rain fly is very convenient and seems to work very well. As mentioned by an earlier review the external center pocket is very tight and you can only fit in some very light gear, map, socks maybe but not very much.
I wish there were at least one more set of strap tie downs to lash a small camp chair or bed roll a little higher, but not a huge deal, I can make it work.
I think this pack is good, but you do sacrifice a few small features for the price, but I am glad I saved $75 (half the price of REI bag) to get this one, no regrets, and I would recommend, mentioning the small shortcomings. I would give it 4.5 stars if possible.

Reviewed by MouseRat from Florida-Georgia on Tuesday, March 4, 2014

This is my first pack so I can't speak to its specs compared to another but it definitely held up well on my first weekend trip. Lots of room in the main pocket, even got to try out the rain fly which worked like a dream! My biggest complaint is the outside pocket which zips down the middle, which isn't really useful as a pocket because it took all my strength to zip it even when the pack wasn't completely full, by the third time I had to access the pocket the zipper actually broke, which was very disappointing as this happened on my first trip. Outside of that though it was great

Reviewed by Katie from Washington on Tuesday, February 11, 2014

I'm a 5'4", and thought this pack would work for me because of the adjustable harness. However, the frame is curved such that when it is fitted to my torso size, the frame extends high enough above my shoulders that it pokes me in the back of the head. If not for that, I totally would have gone for this pack. Lots of pockets, materials seem good, built in rain-fly, awesome price. The shoulder straps look like they might be a little flimsy, but as I ended up returning it I shall never know.

Reviewed by Ron from CA on Friday, October 18, 2013

I love the side zip access to the main compartment, and there is an adjustable bungie type cord around all the outer mesh pockets. The adjustable shoulder harness helped fit my long torso. Nice Pack for a weekend trip

Reviewed by DiscoverTrails from Indiana on Wednesday, July 24, 2013

I really love this pack for its convenience. This pack has great pockets and even has a built in rain fly. I have not taken this pack deep in the woods yet but seems to hold everything comfortably. If your looking for a multi-day pack consider this one.

Reviewed by Sarah from Washington on Wednesday, July 24, 2013

I recently used this bag as my only piece of luggage while traveling around Ecuador. Getting it adjusted properly takes some trial and error and it rides most comfortably when it is pretty darn full but once you figure out how you like it it is a very serviceable pack. You can fit a lot in here and the side zippers make getting at items in the bottom fairly easy. It went through a lot of abuse without any rips or any zippers breaking. All in all a good pack.

Reviewed by Alison from Connecticut on Thursday, July 11, 2013

This pack is great quality- do not let the small price tag throw you off. Great construction, materials, and fool-proof and fast adjustable suspension. Very comfortable when loaded up with gear, padding was perfect and straps did not dig into shoulders. However, as I have noticed with some packs, the frame above the lumbar cushion has a very pronounced curve to it which results in a huge gap between most of my back and the pack itself. Other straighter frame packs are more suited to my body type and keep the load close to my back where it should be instead of as much as 3-4 inches away. If you also have this issue then I don't recommend this pack. I will be returning it myself.

Reviewed by KK from Idaho on Wednesday, June 19, 2013

We haven't hiked with it yet, but the pack is roomy and adjustable to many sizes. It may not fit a large man, but for youth and women this pack is perfect. It was a great price for the product. We are very excited.