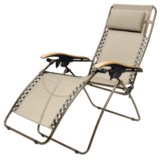 Closeouts. The ultimate in comfort by the campfire! ALPS Mountaineering's Lay-Z Lounger has an adjustable headrest, contoured arms, and full range adjustment.
Average Rating based on
72
reviews
4.125000
0
5
Verified Buyer

Reviewed by Asterisk from Massachusetts on Sunday, October 8, 2017

We got our first ALPS chair locally--pricey, but way more comfortable than the $50 versions at the local hardware stores. It's a hair less comfortable than our Lafuma zero-gravity chair, which is similar but padded, so I docked it one star, but wish I could dock it only half a star, as in all other respects, it's great. We've used it for over a year, all year round (for winter, we move it inside next to the wood stove, where i have failed asleep in it more than once), and the locking mechanism still works fine. Until the snow flies, it stays on our porch, which is covered but not totally enclosed. It's gotten pretty dirty and I haven't yet tried to clean it so don't know about that, but the integrity of the fabric and cording is fine. It's exposed to sun, but mostly protected from rain.
This chair from Sierra TP is exactly the same, and the price is great. We got two more, one for the other porch and one for a gift. Note that it's heavier than your typical lawn chair--I wouldn't want to carry it around much, so I wouldn't use it as a camping accessory unless I was driving right to the site and staying put for more than one night.

Verified Buyer

Reviewed by Kayelle from Utah on Tuesday, May 16, 2017

This is the most comfortable chair I've lounged in. Legs can raise up & the adjustable pillow is a great addition. No pressure point, I feel like I'm floating. Icing on the cake is how nice these chairs look too! The metal had more of a greenish tinge to it, nice blond wood arm rests, so glad I found these on stp.

Verified Buyer

Reviewed by Soo from Iowa on Monday, May 8, 2017

I have used this lounger inside and out. Still recovering from major back surgery, this lounger is one of the most comfortable places to retreat you can imagine.

Reviewed by bill from folsom, ca on Friday, September 30, 2016

i bought this chair 4 + years ago. it sits on a veranda usually, so it is protected from sun/rain. it is the most comfortable chair we own, and it has been totally reliable. i am 5' 10" tall, weigh 175 pounds. i also have La Fuma chairs, i prefer the ALPS for comfort. both brands have been reliable. La Fuma definitely prettier.

Verified Buyer

Reviewed by A Cantu from Anaheim on Friday, August 19, 2016

It is well made, comfortable, we used it for camping. You can recline and let's you lock it in place.
It didn't come with a bag but we used velcro to make it stay when folded. It was perfect for star gazing by reclining the chair all the way, it was cold at night so we had to put a blanket over to block the wind and it was very comfortable. You can recline it and sleep on it or it could be used to just put your feet off the ground. It is definitely a comfort item for car camping that is worth taking.

Verified Buyer

Reviewed by Nayaswami from California Sierra on Monday, January 18, 2016

I love the feel and design, but crucial black plastic guide came cracked in small pieces in shipping bag. Will be returning and asking for replacement or credit. Real shame....

Verified Buyer

Reviewed by Dow from Utah on Wednesday, December 9, 2015

I ordered 3, only 2 arrived. I had to be the one to inquire as to the 3rd...first an employee at Sierra told me that the chair was delivered. I called UPS then I called Sierra back. Then they said it was returned to their store. They would get it sent right back out. No Chair. I called back. Oh, we never got it sent back out, we will offer a refund unless you want the chair? I said, yes I want the chair. Instead I got the refund minus a refund/shipping fee. I called back. Oh we are sorry, we will credit you that fee back. I asked if I could still have the chair instead? oh sure. Never received the 3rd chair, nor ever heard back. Have been loyal to STP all the way back to me living near Reno and shopping their store decades ago. Something has changed. If they paid me what my time is worth in the field (for chasing this order down), I would own these chairs for free.

Verified Buyer

Reviewed by Smart Shopper from Vermont on Tuesday, September 1, 2015

We ordered this as a gift to our son for his 50th birthday. He, and we, were very pleased with quality. When he said his wife was going to be SO jealous, we immediately ordered another one for her, so he could be assured of getting a little time in his!!

Verified Buyer

Reviewed by Dess from Carolina Beach on Sunday, June 14, 2015

Doesn't quite recline enough and with wooden handles not really outdoor friendly. The included directions advise not leaving outdoors. Why else would you buy this?h

Reviewed by Lucy from USA on Saturday, June 13, 2015

Very comfy, durable chairs. Best napping chair!