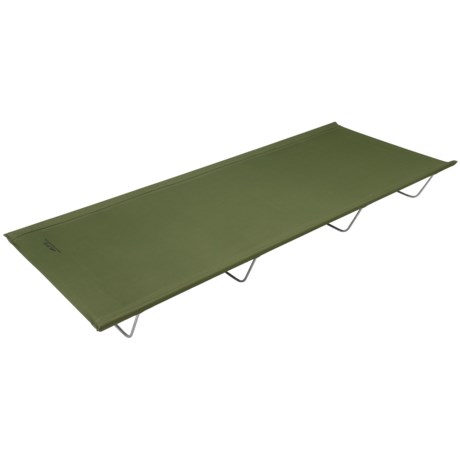 I just set this up and like it a lot.
Reviewed by iamamultitasker from Northern California on Monday, October 13, 2014
This cot is lightweight, well-engineered feels comfortable to lie down in although I haven't slept in it yet. I might get a chance this week on a fishing trip.

Assembly is easy. Just remember to align the holes on the side bars before putting them into the canvas mat. Then install the crossbar/feet by holding the mat vertically on its side and putting one end of the crossbar into the hole of the bottom sidebar in the canvas mat. At this point you can grab the top of the crossbar and use your weight to lever it down to the hole of the upper sidebar (remember that the mat with the sidebars installed should be on its side held up vertically. Do this 4 times and you are done in less than 3 minutes.

It looks durable and if it is, then I don't see anything wrong with this product.


Similar items and more information in the following areas: