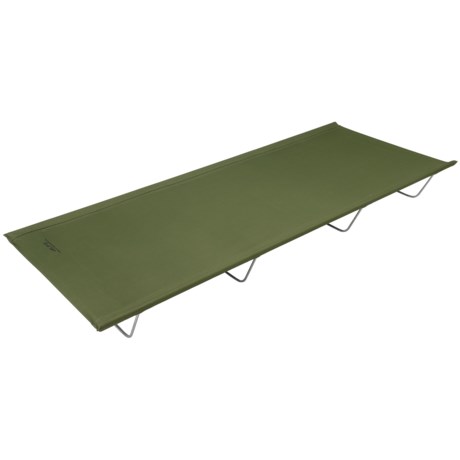 Shame on ALPS for bad instructions
Reviewed by CalGalTex from Sacramento CA on Sunday, June 28, 2015
I chose this cot over the competition (Thermarest, etc) partly because of the good sale price but also because, at 29 inches, it is substantially wider than the others, which are mostly 24. Unlike other reviewers, I had no problem assembling it the first time. The trick is to insert all four legs into the holes on one rail first, then use a foot to brace the rail on the opposite side while pulling the legs on that side into their holes. Easy as pie. My only problem was getting everything back into the bag when it was time to take it down.

Once assembled, this cot is not without its wobbles, and there's a bit of hammock effect that you don't get when sleeping on flat ground. I bought it mostly out of curiosity and because I like to sleep under the stars without a tent now and then. Used my normal camping pad on top, and it was very comfortable.

The amazing thing to me is that the instructions that came with this cot obviously were written by someone who does not speak English as a first language. Instructions are like a recipe for a meal: they need to be tested repeatedly and revised accordingly so that the dish can be successfully prepared by all who attempt it. I can't believe that ALPS, which is a well regarded company, would market a product with such garbage instructions. Probably why it's on clearance... If you try to assemble it according to the instructions, you'll either give up or be as frustrated as many of the other reviewers and end up sending it back. Use your logic and instincts, and you'll do fine...
Similar items and more information in the following areas: