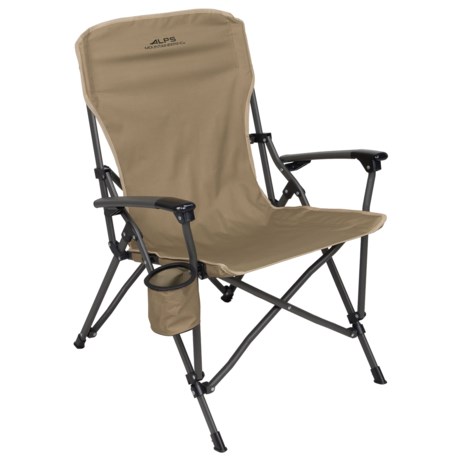 The frame doesn't touch the seat of the chair. The seat is more like a sling supported at
The edges, not in the middle. It's the most comfortable of this type of chair we've used.

Facing the setup chair, there is a vertical X facing you under the seat,
connecting the arms and the legs, with a corresponding X in the rear
of the chair. There are no supports that come in contact with any of
the seat, or back. It's kind of a sloop design, that when the chair is set up
you sitting in it provides the tautness of the material. I have a bad back (two
surgeries lower back), and was satisfied with mine. It doesn't give you
perfect posture as you naturally slump a little. But, I sit in mine to relax.
Hope this is helpful for you. I ordered a second one, after the first for
my late teen son (no complaints).

I forgot to add that it does have bars on the very
sides of the seat, but these do not come in contact
with my body - they just tighten up the material for
When you sit down in it.

It does not cross over, but the fabric is taught/does not sag. These are extremely comfortable.

Mine is packed away, but to my recollection, the frame members are along the edges of the seating fabric, not under it. Or put another way, at 215# I don't "bottom out" against any crossing frame.

I liked the first one so much, I ordered a second.