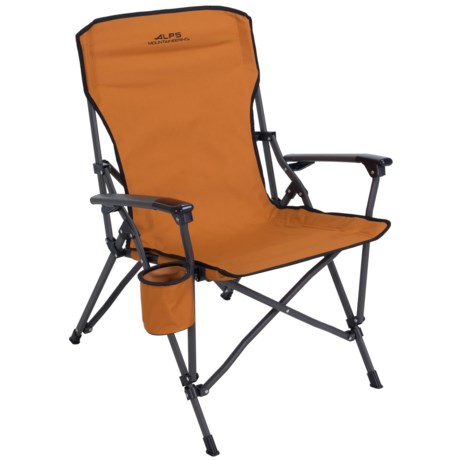 This is a very substantial camp chair.It is well designed and solidly built. One sits securely largely because the frame is heavy and rigid. There is definitely some give to the way the fabric is cut - my partner and I both feel we supported and there is 100 pounds difference.

I am sure you could easily tuck in a pillow or dry bag or stuff sack to provide some additional support.

Since you seem to be all about rafting, I will say that I am not sure that I would want to carry this on a raft.

I have arthritis in my lower spine and this chair seems to be supportive, but not as much as a pillow might provide. Its roomy size and solid construction are what appealed most to me and the fabric is not stretchy so that what you sit in now will be what you sit in next year as well. I bought a second because of its construction and comfort.

Well, I've had two back surgeries (got hit by a backhoe in the late eighties, and had two separate disc removal surgeries in the L4-L5 region of the spine), & so far I have been happy with the chair (bought a second one after purchasing & trying the first). The way the chair is designed is the seat has a bar on each side from the front to sticking maybe 1/2" out of the rear material to make the back more of a straight up-and-down tightness on the back material rather than the slope you would expect on a beach chair sort of arrangement. So, it tends to give more of a rigidity than you normally encounter. I have been through a few chairs (bought a Kermit some years ago and the jury is still out on it as I bought it for when I use my motorcycle, although I do take it camping), and so far this is the one I like to take. It's not a light chair, I think it's well constructed. I will attach a photo to give you some appreciation of the chair construction. It doesn't have any bars going across the back, but like I mentioned earlier - the seat construction kind of makes it superfluous to add anything else. You're not going to have perfect posture in the chair, but I think you will be comfortable as the material stays tight in a supportive manner from the seat up.
Happy New Year!

You might still want a small pillow for total comfort but I find this chair to have the best back support of any I've used. This is my all-time favorite camp chair!

This is by far the best camp chair in terms of offering back support without the traditional sag found in most. Due to the solid construction, I would warn that this is not a chair that you will want to pack-in to a remote site as it is heavy. I think you will be very pleased with this chair.