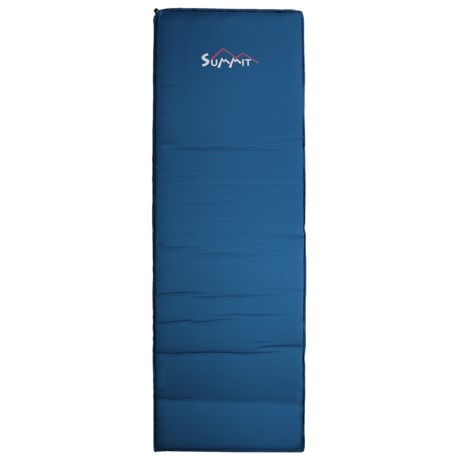 Nice quality
Reviewed by minnyca from berkshires, MA on Sunday, April 7, 2013
Will use for car camping- need something to protect these weary bones from the cold, uneven ground in our tent. Can't comment on usage in the field yet, but we set up to assess- bought 2. Filled over time to the full 3 inch height if left alone to self-inflate (over 8 hours!) but was moved along with a few quick breaths into the valves. Remember to close the valves before use!!! Definitely a firm feel when full- I like mine softer than the hubby, so I let out a bit of air so when I was lying on my side it was softer, but yet it still did not bottom out to the ground :) I purposely bought a pad 30 inches wide, as I hate to hang over the edge of a pad...

Minor complaint: the top of this is polyester..SLIPPERY! I will be making a jersey cotton 'sack' to put around the pad as a bottom sheet and to lessen the slip and slide- mind you, I am a HUGE toss-and-turner all night- this may not be an issue for the sleepers who rarely move.

I deflated by opening the valves, and rolling gradually from top toward valves, kneeling on it as I went to help push air out, and when I got to the bottom fully rolled, I closed the valves, unrolled, and rolled a SECOND time to squish out even more air, and when I got within 6 inches of the bottom the second time, opened the valves again and finished rolling to the very end, then closed again. This made for a rolled pad that easily was surrounded by the straps included, and fit in the bag it came in. Overall, took my about 5 minutes to roll.
Most helpful negative reviews
Similar items and more information in the following areas: