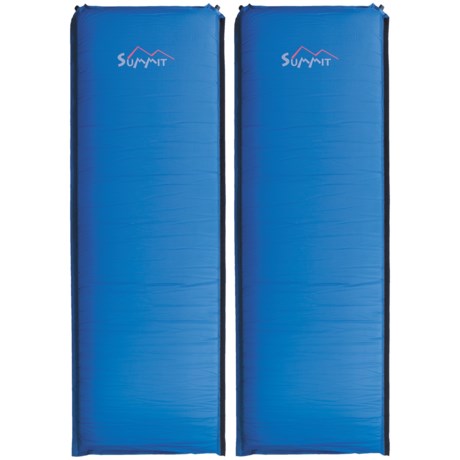 It is flat and can inflate up to 3". It inflates by itself to about 2.5ish but you'll have to blow a little air to make it to the 3" mark. No pillow, just flat. The valves are at the top right and left corners. These allow the pad to inflate and deflate quickly. Overall, I highly recommend these, very comfortable.

The pad is flat, does not have a pillow. It does inflate to 3". Well, it's more like 2.5" on its own (2 5/8", I just measured it) and you can blow into it and get it to 3" without much trouble. I did this the first few times I used it but found out I prefer it inflated to its natural state, it doesn't really feel much softer, but I sleep better. Also, since it has no pillow, there is no top or bottom, the valve side can be placed where ever you like.

I don't think that these pads could be 3" even when inflated to their maximum. I believe that it is more like 1.5-2".

It actually inflated to over two and three-quarter inches, I probably could've blown a bit more air into it, I don't think the mat is as comfortable when it is fully inflated. It does not have a pillow and it is a flat pad with two valves at the top.

i have used these on 3 occasions now. I am guessing the inflated thickness is about 2 inches at most. It may be possible to make them thicker by adding air but I have found them comfortable enough by simply opening the valves for self inflation. It does not have a separate pillow. There are 2 valves on each pad at the top corners.