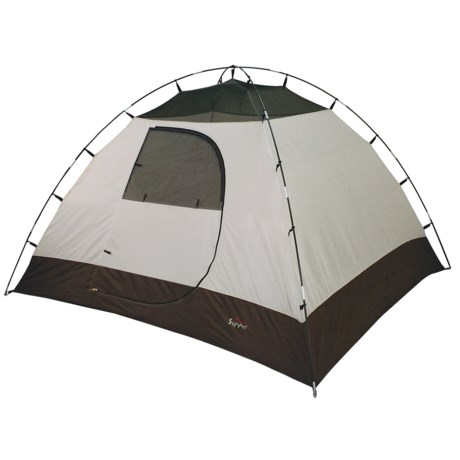 Good tent for fair weather family camping
Reviewed by Anatoly G from Portland on Tuesday, July 16, 2013
Summary

Well made, not very heavy, family tent for fair weather car camping trips. Great for families of 4 with small kids. Tons of room in the tent, especially high ceilings. Not great for inclement weather. Recommended if you can store gear in another place.

Pros

roomy
well made, good materials
easy to set up
heavy-duty floor, no need for a ground sheet
great value
Cons

only 1 door
no vestibule
fly doesn't cover the entire tent
somewhat heavy
Setup

Setting up this tent is a fairly easy affair. There are two main tent poles that hold up the tent, and a shorter one that extends the fly over the entrance. In usual ALPS Mountaineering style, the tent poles hooked onto the tent with sawn-on hooks. The fly pole was a little tight to get into the fly, but very doable. Once on, the fly attaches to the tent via buckles on each of the four corners.

Stability

This is a free-standing tent, so it stands very well by itself, strong in the wind. Comes with several aluminum stakes which could be used to further stabilize the tent - but not necessary in fair weather, as the tent itself is pretty heavy.

Weather Resistance

One of the strongest features of this tent is the floor. It's made of nylon tarp material - strong, waterproof and resilient to sharp items on the ground. I don't think it's necessary to pitch this tent on a tarp, as the included floor is strong enough. The tent material itself is high quality, and the fly does cover the mesh parts well. One disappointment is that the fly does not cover the entire tent, only the top, and so you don't have a vestibule where to stash your stuff. This tent is strictly for car camping.

Room & Storage

As I mentioned in the last section, this tent does not have a vestibule for gear storage, so it definitely loses some points there. There are pockets on the inside where you can stash a light, or something packable, but overall, there isn't much storage here.

On the other hand, there is plenty of room! We fit a queen blow up mattress and a twin bedroom side to side here, and had a little bit of room on the side. There were four of us sleeping in this tent, and we all felt there was enough room. We are not very large people, however, so your milage may vary.

Features

One of the biggest disappointments with this tent is that there is only one door! The door is in the front of the tent, and there is a vent/window in the back, but it doesn't open all the way. I feel like a tent of this size should have two doors, so that parents can leave without waking the kids. As is, we always walked in through the front door, which wasn't great for kids' sleep. On the plus size, the door was a full-size mesh, with a water-resistant layer for when it became cold/wet. The vent in the back was same.

Conclusion

If you are car camping with your kids, and you can stash your stuff in your car or near your tent, and you don't expect a downpour, this is a good tent! It's roomy, well made and is tough. If I were to change anything about the this tent, I would add a second door. I would also consider making a vestibule at least next to one of the doors for stashing stuff.

Similar items and more information in the following areas: