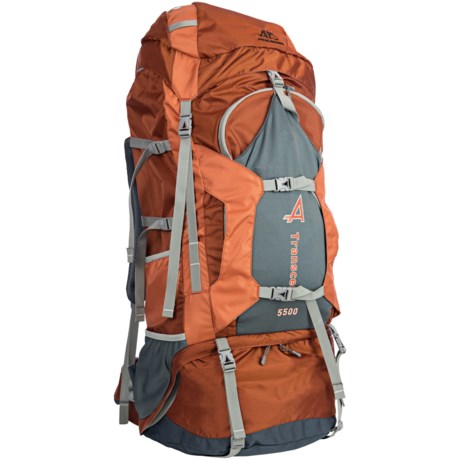 A great value pack
Reviewed by BenR from Tennessee on Friday, April 8, 2016
I purchased this pack a few months ago for winter hikes that require extra room for more clothes and my larger winter sleeping bag. Initially I liked the design and the price was excellent so I bought it. At first glance, I had some skepticism simply because of the low price and the materials seemed a bit 'light duty' but after using this pack I must say I'm thoroughly impressed.

I recently traveled to New Zealand and this was my checked bag for the trip. I'm happy to report the bag handled 6 total flights without any wear. While in NZ, I hiked the Kepler Track, which in and of itself was amazing, and after the multi day 60+ km trek, the pack really did a great job. I'm 6'3 and 185lbs with a 32inch waist and the large frame fit me great. I will caution; however, that anyone with a waist smaller than mine shouldn't opt for the large because the wait straps may not fit, but that's pretty standard with all pack sizing. The pack felt great carrying under the load and there are many pockets outside for easy access to food or whatever you wish to put out there without going into the main compartment. The rain cover did ok, but towards the top where the cover loses its steep angle, water did penetrate to the top lid; however, this is also standard with my other packs as well. But it's an easy fix if you wear a puncho in downpours, simply put it on with and over the top part of the pack and everything will be fine. The water opening also worked great and my water bladder fit nicely in the inner pouch with the velcro clip. Lastly and back to the materials, I am still skeptical of the thin materials for really long term use, but then again it makes the pack lightweight for its size, so there is always a trade off and to be fair, since I haven't used it that much or long, I cannot comment as to its longevity. But I can say during my multi day hike I was very comfortable and the bag did great.

So for those of you like me who had rather save a few bucks on a pack in lieu of gas or an airplane ticket to make a journey, I recommend this as a really great deal on what appears to be a really nice pack.

Happy hiking and cheers!
Most helpful negative reviews
Similar items and more information in the following areas: