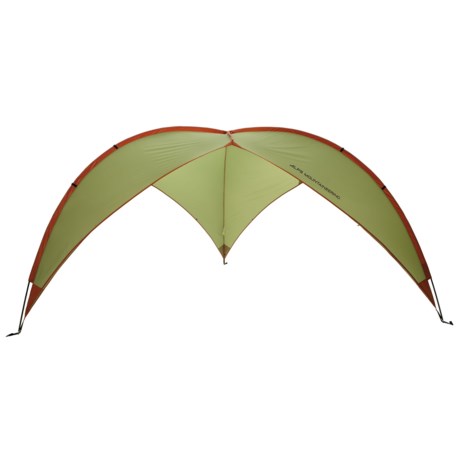 Too difficult to put up alone.
Reviewed by Lost In Pinecone Country USA from Extreme NW Montana on Wednesday, June 12, 2013
It's easy to assemble yes. Good quality materials and made well. BUT at 5.2 and light built female I can not get this up by myself. I camp by myself as hubby is not into it. I can get the first pole into the grommet but all consecutive two poles I do not have the strength no matter how hard and muscle and bend and lean into the bending of the poles manage to get the tip into the grommet. Once all three poles are in the grommets as designed it's super easy to place and stake and add guide lines or not and the sun/wind breaker to one side or not. I will probably have to sell this and find something I can handle. I like it once it's up but I can't get it there. Also I camp in some areas where there isn't other nearby campers. Living in a county that's several times larger than all of Rhode Island and it's more than 75% Public owned forest/creeks/rivers/lakes will there are lots of undeveloped camp sites. This was to hold and pull the camp site together between 1-2 tents and a Changing Room Tent that holds porta potty and sink. The height is good too for taller people. Just sad I can't manage it.
Similar items and more information in the following areas: