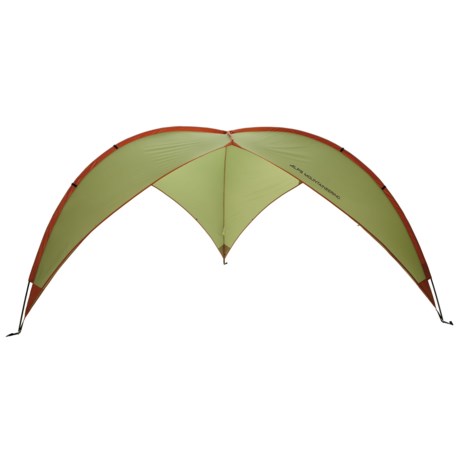 Tri-Awning? Try awful
Reviewed by H to the izzo, V to the izz-a from Tennessee on Monday, May 16, 2016
I'm sure this thing might have some usefulness to someone, but I can't for the life of me think who that person might be. I ordered this as I thought it might be useful for a beach trip or down on the river during the summer to provide shade. I gave it to my wife so that she could use it for field day at her school. I haven't even taken it out of the bag. So when I came in that day, I asked her how it worked and she said they never could get it to stay up (That's what she said). Anyway, me thinking that I am a superior outdoorsman, decided that i would set it up in the yard and show her how easy it was and how well it would work.

Conditions: Sunny, wind gusts to about 10-12 mph, but otherwise calm
Place: my sodded lawn
Time to erect: 10-15 minutes
Time to get correct: additional 30 minutes

Pro's: Was up

Cons: Whenever the wind would blow, This thing folds up like a double stranded DNA helix. I'm talking like barely any wind at all and this thing goes to flopping around the Wacky Waving Inflatable Arm-Flailing Tubeman. So i think, this is what those extra tie downs are for and place them around it and anchor them to the ground.
Well, this works, so i go to attach the additional sun shade, clips break.

So, the worst part was that during this ordeal, my wife is looking out the window at me and laughing hysterically as I swear and throw things like a child.
Well, I decided to go inside and get something to drink>>>>fast forward a couple hours, I go back outside and this thing has blown down, stakes pulled up and pieces of tent strewn across the neighborhood. Thought about just moving, but instead decided to find and pack up all the parts of this thing and send it back.
Similar items and more information in the following areas: