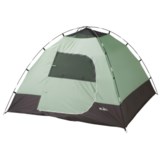 Overstock. A phenomenal buy on this roomy, high-quality ALPS Mountaineering Wilderness tent with a free-standing, two-pole design.
Four mesh roof vents
Two large mesh windows
Hooded fly at front and rear
Side-hinge door
Storage pockets
3-person, 3-season
Includes: Fiberglass poles, stakes, carry bags, guy ropes
Floor: 7x7', 49 sq.ft.
Height: 4'6"
Stuff size: 8x25"
Weight: 7 lb. 2 oz.
Fabric: Nylon
Made in China.
Average Rating based on
31
reviews
3.129032
0
5
Verified Buyer

Reviewed by Mal from Lancaster, OH on Tuesday, June 1, 2010

This is a great tent! It is light weight and super easy to set up! It's perfect for 2 people. It does collect condensation, but only when you touch the sides, and most tents do the same. I'd recommend this to a friend in a heart beat.

Best Uses: Car Camping
Cons: Collects Condensation
Describe Yourself: Environmentalist
Pros: Comfortable, Easy To Set Up, Fly Works Well, Lightweight, Sturdy, Waterproof, Windproof
What Is Your Gear Style: Minimalist

Verified Buyer

Reviewed by Orange from OHIO on Tuesday, May 18, 2010

Used this for a primitive camping weekend - loved the easy set-up - worked well for one person - I hadn't camped for a while - probably would like a little larger tent - I may purchase a bigger one and give this to the grandkids - although it would be great for a quick overnight - may keep it for spur of the moment use.

Best Uses: Backpacking, Backyard, Primitive camping
Cons: Too Cramped
Describe Yourself: Casual/ Recreational
Pros: Comfortable, Easy To Set Up, Lightweight, Very easy to assemble
What Is Your Gear Style: Minimalist

Verified Buyer

Reviewed by dadof7 from MN on Monday, May 17, 2010

This was a good buy, but it did leak even after I took precautions and bought sealer and sealed it before taking it out. However, everyone else's tents leaked, too, as it was very rainy. (except for BIL's very expensive tent). I portaged this and it fit in my (large) pack and was light enough.

Best Uses: Backpacking, Backyard
Cons: Leaky
Describe Yourself: Avid Adventurer
Pros: Easy To Set Up, Lightweight, Sturdy
What Is Your Gear Style: Comfort Driven

Reviewed by Mickey01 from Wayne, NJ on Tuesday, May 4, 2010

We camp annually with married children using their own tents. However, after struggling with a smaller name brand tent, we now use the AM 4 person, 9 x 9 ft tent and we are very comfortable, great ventilation, entry door on 2 sides, bottom tub design, lots of room, great. I cannot even mention the price, it was so great!
We experienced heavy rain for 2 days last year and had to cover the one leak with plastic. Think I sealed the spot afterward, will find out soon. But, loads of room at great price, and one tiny leak. I can't complain.

Best Uses: Car Camping, Climbing
Cons: But Only a Small Leak
Describe Yourself: Casual/ Recreational
Pros: Comfortable, Easy To Set Up, Fly Works Well, Lightweight, Loads of room, Sturdy, Windproof
What Is Your Gear Style: Comfort Driven

Verified Buyer

Reviewed by Camping fool from Salt Lake City, UT on Wednesday, April 28, 2010

I love my new tent! It is so easy to set up by myself. It fits easily back into the bag whey I'm done. The fabric is not as sturdy as some other tents, but for the price it is fantastic. For casual car camping, it is great. Fits 3 people very comfortably. Do not need the extra footprint underneath because of the plastic coating on the outsede of the floor fabric.

Best Uses: Car Camping
Cons: Flimsy Construction
Describe Yourself: Casual/ Recreational
Pros: Comfortable, Easy To Set Up, Lightweight
What Is Your Gear Style: Minimalist

Reviewed by Scout Master from Philadelphia on Sunday, April 25, 2010

Yes, it was set up propery. The fly was NOT in contact with the tent and it still leaked.

Best Uses: Backyard
Cons: Leaky
Describe Yourself: Casual/ Recreational
Pros: Easy To Set Up, Lightweight
What Is Your Gear Style: Comfort Driven

Verified Buyer

Reviewed by Jules from Florida on Saturday, April 17, 2010

Perfect tent on a clear day!

Best Uses: Backpacking, Backyard
Cons: Collects Condensation, Leaky, Poor Fly Design
Describe Yourself: Casual/ Recreational
Pros: Comfortable, Easy To Set Up, Lightweight
What Is Your Gear Style: Minimalist

Reviewed by Rainy day blues from Nokomis, Florida on Friday, April 9, 2010

The tent is very easy to put up and very comfortable to sleep in, that is until it starts to rain. Puddles collected from all directions at the base of the tent. As long as I stayed curled up in the middle, I was okay except it made sleeping impossible.

Best Uses: Car Camping
Cons: Collects Condensation, Leaky, Poor Fly Design
Describe Yourself: Casual/ Recreational
Pros: Comfortable, Easy To Set Up, Lightweight
What Is Your Gear Style: Comfort Driven

Reviewed by Kerry from Pullman, WA on Monday, March 29, 2010

I have had this tent for 6 years now..it gets tons of use on wild and scenic rivers in the west. this tent is awesome for the price !

Last rafting season (2009) I spent every weekend (2-3nights) from mid may to labor day sleeping in it on a sandy beach...

it has clips instead of sleeves.. which is the biggest selling point for me...

in a big all night wind storm it stayed up, although sand did get blown up the sides under the rain fly, and into the tent through the roof windows...

I have had absolutley no problems when it rains.

there are no holes in the floor.... i do not use a tarp under my tent like some folks do..

after 6 years the zipper gets a bit temperamental,,but still works... so am buying a new one..

Best Uses: Beach, Whitewater rafting
Cons: Heavy
Describe Yourself: Avid Adventurer
Pros: Comfortable, Easy To Set Up, Fly Works Well, Sturdy, Waterproof, Windproof
What Is Your Gear Style: Comfort Driven

Verified Buyer

Reviewed by kevin from boulder colorado on Monday, March 8, 2010

i am very pleased with the ALPS tent i purchased for a 3-person tent it is liteweight yet extremely durable.[...] keep up the great work you have all definitely made a customer for life.

Best Uses: Backpacking, Hiking
Describe Yourself: Avid Adventurer
Pros: Comfortable, Easy To Set Up, Fly Works Well, Lightweight, Sturdy
What Is Your Gear Style: Minimalist