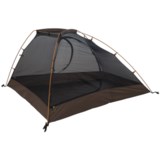 Closeouts. The improved design of the Zenith 2 AL tent by ALPS Mountaineering offers maximum weather protection and more headroom for sitting up during a downpour.
Average Rating based on
191
reviews
4.308900
0
5
Verified Buyer

Reviewed by Down River Dan from Michigan on Monday, April 16, 2018

Unit is used to insure bug protection and heavy rain. Full Coverage.

Reviewed by Wilson from Colorado on Thursday, April 12, 2018

I've had this tent for about 3 years and haven't run into any problems. Great tent especially for the price. My dog has been in and out of this tent a million times and it hasn't shown any signs of leaking.

Reviewed by Sam from Burlington VT on Tuesday, September 5, 2017

I've had my tent for 5 years and have used it a lot in various conditions. The only downside to it is that the price continues right climb on it. I bought it for $75. This tent will hold up to some serious rain and wind but I've never used it below 40 degrees. In Vermont we see 40-50 regularly in the summer and it's done very well. I'd buy another one if this one wore out, but thankfully they hold up well!

Verified Buyer

Reviewed by AndrewB from Missouri on Wednesday, July 26, 2017

Perfect well-made little tent for one (or two who don't mind getting cozy!)

Reviewed by Dublavee from Portland, OR on Sunday, July 2, 2017

I purchased this tent, basically on a whim, a few years ago. This tent hasn't let me down yet! I've used it for bikepacking, backpacking, and car camping with no complaints at all.
I was pleasantly surprised to find out that it can withstand rain, leaving a dry spot where the tent once stood, and it dries out pretty quickly with the help of something like a 'Packtowel' microfiber towel.
The way the tent/fly combo is designed is great for keeping warm air in, but never making it muggy inside the tent, because of its vent placement. Even getting out of the tent to use the restroom, I've re-entered the tent and did not feel like there was any loss of heat.
I'm not a gram-weenie in any field so this is a lightweight tent to me as well.

At this price this tent is a great deal. If anything, it's a great "starter" tent for anyone who wants to get into camping!

Verified Buyer

Reviewed by Dave from Montana on Wednesday, January 18, 2017

I am 6 feet 4 inches, so I used this as a 1-Person tent, but it was probably my favorite purchase for the whole season! Nice little design, packs up neatly, and does pretty well in windy weather (its rain fly is a little more aerodynamic than most, so it did not get blown over as easily as the tents of my fellow campers). I used it for about three months camping in many different climates in Montana and it made it through the spring and summer pretty easily. At least for me, and again I am tall, there was not very much head room when I would sit up in the tent, but that was okay for me. Also, sometimes rain would pool on the top of the tent and little spritzes of water would get in, but it was not too bad, and I figured out a system with the guy lines that made it not a big issue, at all. I would sleep diagonal and there was just enough room to stretch out, so that was good. I also very much appreciated the two vestibules, a nice place to put muddy boots for the night. Overall, I am very happy I got this tent! For the very low price I paid on this site due to all the discounts adding up, I would definitely recommend it!

Reviewed by Nick from Indianapolis on Monday, October 17, 2016

Easy to setup, tall enough to sit up in, big enough for two people. Rain cover is bigger than it should be. Can't beat the quality at this price point

Verified Buyer

Reviewed by Diana Prince from California on Thursday, September 8, 2016

Just got back from first trip with this tent and I will be buying another for my son. We were out in the Eastern Sierra and it held up very very well in an overnight wind storm that gusted hard enough to make it difficult to stand up straight. Night time lows in the 30's and I had very little condensation/ice inside my tent compared to everyone else. It is quite roomy. I had head room to spare when sitting up and ample space to stretch out, though I am 5'5"so I don't require a lot of height. It's totally comfortable for 2 average sized people. And the double doors mean no crawling over your tent mate! The tent was REALLY easy to set up. After the third setup I was getting it up in under 2 minutes and once set up in the dark almost as quickly.
Downside: It is on the heavy side, but then again it doesn't claim to be lightweight. When I had taken out extra stakes, etc. The bag, tent, fly, poles and 5 stakes weighed 4.9lbs. Also it does not come with a footprint and I ended up re-purposing an old tarp which added another few ounces. But for the money - I'm not complaining.

Verified Buyer

Reviewed by eowens from Colorado Springs on Tuesday, August 30, 2016

This tent was easy and fast to set up, i was elk hunting at 13,000 ft and got to my site in the Hail/Snow/Rain and had it up in 1 minute 30 seconds. It retain heat good and is very spacious for this 6'3 220 lbs man and 80 pounds of gear. This tent makes you want to bring more comfort items to enjoy the outdoors.

Reviewed by TTF from USA on Saturday, August 20, 2016

The tent is decent enough but is fully one pound heavier than stated. It is 5 lbs 8 ozs. I just weighed it.