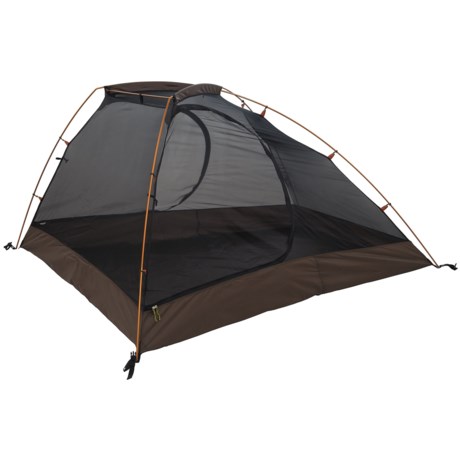 Very good for the price and weight
Verified Buyer
Reviewed by California from California on Thursday, January 1, 2015
I just used this tent on a cold trip to the north coast. The weather was very gusty, and quite cold winds. The tent setup goes very quick, and for the first time in many trips I had to stake it down at all four corners as well as the vestibule flaps. On most trips, I don't usually have to bother with fully-staking a tent in place, but this trip required it. The supplied stakes worked perfectly, able to penetrate into the hard earth well and did not come loose. Once staked down, I stood back and watched from outside as a major gust blew at us. The tent flexed over almost till it was flattened about 2.5 feet off the ground, but it did not blow away or come loose. When the gust was past the tent popped back to shape with nothing bent or even loose. Impressive!

With this much wind the tent was somewhat drafty throughout the night, and not as warm as my other tent, but it is also made from thinner lighter material. I can feel the lighter weight on my pack, so view this as a good tradeoff. We got gusts of rain (but not a full deluge) and we stayed entirely dry. Before morning, the wind finally dropped,. and we slept comfortably.

The damp ground around us allowed the inside surface of the rainfly to get wet, and they could come together into a drip, and drop droplets of water onto the screened tent-surface itself. After a time those drops would find they way through the tents screened surface, and drip on you.

So the tent indeed can get you wet inside, but it keeps the bulk of the weather out extremely well. It is very easy to set up, has plenty of room (for two), very convenient with both doors (though possibly drafty because of this), and very light for the size and final usable space. I'm very happy with my purchase, and would recommend it to others.

Things to improve:
The inside additional 'shelf' screen is very nice. It makes a great upper shelf for things, but they can fall out the back edge of it. A few velcro closures across the back edge of the shelf would be nice.
The loops for tying back the doors are very small. The are hard to manipulate, and certainly very hard to manipulate with gloves on. It would be better if they could be the same size as the ties used for the rainfly doors.
The inside pouch attached against the wall inside could be larger, and deeper. It's current shape only can hold light small things like sunglasses or so. It would be better if it could be deeper (possibly go all the way to the floor) so it could be used to hold a tall water bottle vertical.

I plan to add these changes to my tent, then I'd say it would be a very nice full solution. I hope you enjoy yours.
Most helpful negative reviews
Similar items and more information in the following areas: