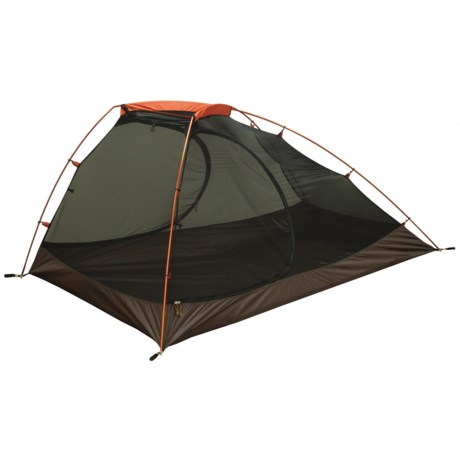 Pit one against a tent of twice the price...
Reviewed by Adam from Jackson Heights, NY on Thursday, May 15, 2014
I've owned this tent for three seasons, now, and it's seen it's share of bad weather, direct sunlight, humidity and occasional hard use -- think; rolling into it with a jogging start as a thundershower bursts from the heavens. Otherwise I've taken good care of it. It's easy to put up, and sturdy once pitched well. That comes to the reason for only four stars -- it takes a full nine stakes to get it tight enough for winds 20 mph or greater. That's often enough for my neck of the woods that I always stake it down fully. It has great ventilation. In the product image showing the rain fly, see the orange, triangular flap? That can be guyed out to reveal a patch of mesh. At the top of the tent, there's another vent that is supported by a short pole wrapped in touch-fastener. It also serves to batten it down to block the wind. You'd guy the other vent flap straight down. Caution yourself against too tight a pitch, especially at the vestibules; it can cause the zipper to leak, and the leak is above and inside the bathtub floor, so... About the vestibules... I daresay you could get a small adult, uncomfortably mind you, but a small adult under there in a pinch. Certainly large enough for pack and boots. And six or seven other things. The side doors are a blessing and has me scratching my head over why they aren't a standard feature on any tent. They're large, easy to open and close, and haven't given me a problem. Even after waking to very desperately needing to see a man about a horse, I've given it a tug or a pull unbecoming someone who cares for their gear. But I had to go. There it is. And they still work fine. This is a 4-season tent... Sorry, let me make a distinction, here, that a friend proposed: Many of us backpack in every season, and use the same tent year-round. But there is what he's called fourth season backpacking -- hardcore, cold weather, altitude, ten days, whatever it is. For this season backpacking, which few of us do, there is gear that can withstand the rigors of backpacking beyond the ten-trip, two- or three-night, milder weather backpacker. So, after all that, I've been camping with this tent in winter, in up to six inches of new snow, moderate winds. I did feel compelled one night to clear the top off as the snow was really accumulating quickly. It's reasonably light weight, and if you split it, each can carry a little over two pounds. All-in-all, a great tent for a good price.
Most helpful negative reviews
Similar items and more information in the following areas: