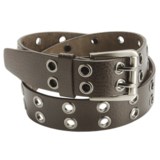 Closeouts. The genuine leather construction and double-prong design of American Beltway's 2 Prong leather belt adds charming allure perfect for a night on the town.
Average Rating based on
21
reviews
4.095238
0
5
Verified Buyer

Reviewed by D. K. from Biloxi on Friday, November 14, 2014

I love this belt. Sturdier than my other casual dress belts, and love the color. It is pretty dark, but I knew it would be. The texture and plated metal set it off. Your girl will love it too; she'll probably steal it from you.

Verified Buyer

Reviewed by jem0701 from Akron on Thursday, November 13, 2014

You never know about these Chinese belts. This one looks pretty solid and looks good. I wear a 32-34 pant waist and ordered the 36.

Reviewed by Isaac from Washington on Saturday, October 25, 2014

Looks good and works. It runs 1-2 sizes small IMO. Wear a 34" and ordered 36" still small for me, just fits on the second to last set of holes. Leather is a little thin too, I was expecting thicker material. The dye is nice and rich and the eyelets have a nice finish to them.

Verified Buyer

Reviewed by WJB from upstate New York on Thursday, June 12, 2014

Attractive, functional and rugged.

Verified Buyer

Reviewed by Aseadog from Savannah, Ga. on Wednesday, May 7, 2014

It is still a good casual belt. The brown is very dark, almost black but it is dark brown. The really good thing is that this belt can be adjusted down to a very small waist. Great for yoyo dieters. Fit = 36 waist 42 belt.

Reviewed by DeedsNVA from Richmond, VA on Thursday, April 17, 2014

I'm female, have this in black, ordered it a little longer in brown to wear with low rise jeans. The brown color is a little darker than I was expecting, if you're not in great light, it appears almost black. But even so, it's a nice belt. Bold but not ridiculously so. Would recommend it. My waist is about 29/30 and I ordered it in 36" for low rise pants, I have it in 34" and it's a close fit for low rise, but fine with normal waist.

Verified Buyer

Reviewed by Will from New England on Friday, April 4, 2014

I very much like this belt. It is a cheap item both in price and quality… but I'm pretty sure it's leather and it looks great.

I say, pretty sure it's leather because it's as hard as sheet plastic… mine is breaking in ok. It's a style belt, not a comfort thing.. the buckle is functional, but I am accustomed to higher quality men's accessories. I like real leather and a nice buckle.. this one is like a facade of a buckle.. it's all show and no guts… but like I said - I like this belt. I'm wearing it right now and I plan to continue wearing it on a regular basis. Works great for my carpentry jeans/pants.. it was so affordable if I didn't like it it wouldn't be an issue.

The brown is considerably dark. (which I also like)

Reviewed by SN from Nebraska on Thursday, April 3, 2014

It looked like it would be a great buy. When it arrived, I noticed that it's composed of genuine leather, not full grained leather, so I son't no how it will hold up , especially if stress is put on the rivots when I bend over. It may be best suited to those who wear it lower on the waist/hips or don't put stress on it.

Reviewed by Mr. Knigh Errant from Utah on Friday, March 28, 2014

What's not to love about this belt? Biker-type belt, but thin enough to wear for most occasions. Order two sizes up from your waist size (i.e. Size 36 Belt for Size 34 Waist). Had to return my 34 for the larger 36.

Reviewed by Dina from Maine on Thursday, February 27, 2014

Well worth the money love it.