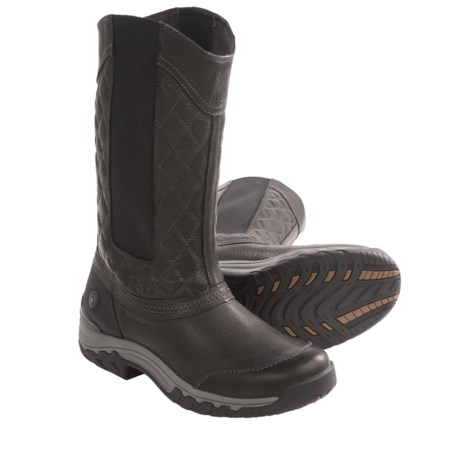 I haven't worn them in really deep snow but in 2-3 inches and my feet stayed warm and dry.

Yes these boots do awesome in snow and slush conditions. Feet stay dry, no problem!

No snow ordinarily where I live in Texas. I would imagine a little snow would not be a problem, but there are gussets on the sides starting about at the ankle. I would not recommend wearing them in ankle deep or higher snow.

You can wear these boots in the snow, but I have not tested their level of "waterproofness" by standing in a puddle or getting them soaked.

I have not worn this in the snow yet. However the product tag attached to the boots states that it is waterproof and warm. The first time we have a heaven snow I will try it out. I had to get next size up, my actual size was a little too snug, a
Though the larger size is slightly loose I can add a cushion or wear thick socks and still be very comfortable.

Yes, I just did this week, but we are talking 1-2" of snow. I don't know they are insulated enough to handle 6" of snow or the deep cold that may come with it. They are not heavily insulated - just layers of thick leather. But the bottoms are sturdy for rough hiking. And, they are definitely waterproof - I have gone through very deep puddles over and over without a problem.

Yes, these boots are warm and dry in the snow. I have walked in several inches of snow several times and with a pair of wool socks these boots keep my feet warm and comfortable.