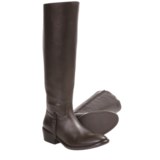 Closeouts. From Ariat's English Manor Collection of equestrian-inspired designs, these Preston tall boots are crafted of supple, premium full-grain leather with soft leather lining and a buckle accent.
Average Rating based on
17
reviews
4.058823
0
5
Reviewed by lb from North Carolina on Thursday, January 30, 2014

I liked them so much that I ordered a black pair. True to size, a little tight around calf at first. After wearing them a few days they go on as they should. They are a little dressy or casual. Well made.

Reviewed by lb from North Carolina on Sunday, January 26, 2014

These are the very comfortable boots. At first they are a little hard to get on, and a little tight around the calf. However after wearing them several times I have no problem with them now. They are made very well. The foot area is a wide which is fine for me because I happen to have a somewhat wide foot. I ordered a 5.5 I usually wear a 5 to 6 just depending on the shoe. They go up to the knee. I am really enjoying them.

Reviewed by Bellarunride from Alabama on Saturday, January 11, 2014

These are nice boots that have a little more of a dressy look to them. I am hoping that they break in and soften up a bit because initially they are a bit stiff. They do run a little smaller than the typical Ariat boot but I still found the footbed to be wider than the average pair of boots. I am only giving them a three star rating because the leather just doesn't seem to have the usual quality the I am accustom to Ariat having. It may improve with age but it has a bit of a plastic look to it. I am 5.7 and the boots come up to just below the knee. I did not have any issue with the calf circumference or with pulling my foot into the footbed.

Reviewed by Minnie the Singer from Herndon, Virginia on Sunday, November 3, 2013

Beautiful boots, had no trouble with the height. Leather was soft, while having enough structure to maintain its upright shape.
Lovely detailing, excellent finish. I ordered my usual size, 6-1/2 in Medium width. I would probably have fit into a 7-1/2 WW, were
that size available.

I could not fit my foot into the boot! The boot was too narrow, and there was too little clearance, to slide my foot in. Too bad, I'd
wanted a pair of Ariats because of their reputation for finish and durability for a long time.

Back they went.

Reviewed by trail hiker from CT on Monday, October 28, 2013

These boots seemed to be styled after a true equestrian boot. The ankle is tight as it should be so it is not sloppy and baggy. The boots are tall to account for the drop as they break in. I am 5'2" and they come to my knee cap but once they break in and drop they should be right below my knee. Well made leather boot.

Reviewed by DD from Colorado on Sunday, October 27, 2013

The description says a 16" circumference, these boots are NOT that wide. They are gorgeous but I couldn't even zip up the right boot, even though the left zipped up okay. I wanted them so bad I took them to a boot shop to see if they could be stretched but the man said send them back, they cannot be stretched that much because of the zipper. So...if you have a normal sized calf (mine are 15"), then these might fit you.

Reviewed by Joan from Augusta on Friday, October 25, 2013

I researched boots like crazy before I chose these. I love the boot, BUT, you will be freaked out trying to get your foot in them. Perhaps they do break in after awhile, like another review said, and then it will be easier. However, I persevered and shoved my foot in, and, they look fine. (imagine a boot where the side zipper does not go down far enough...it's like that.) I thought they came off fairly easily. I wear a 6.5 and ordered a 7; I am small boned and don't have big calves. I thought by ordering a half size up I might not have the problem of the other reviewers, but, no. They are otherwise exactly what I wanted and I am keeping them!

Reviewed by Carolina Girl from NC on Wednesday, October 16, 2013

Styling and comfort are equal! Beautiful leather, I would recommend ordering your normal size. A little hard to get on the first time but after that, the boots feel like they were made just for your foot.

Reviewed by frugalfrancophile from New York on Sunday, September 8, 2013

Great looking boot, tall enough to reach the bottom of my knee which is perfect. With the wonderful Ariat interior design features - super support and cushioning comfort, I hoped we had a winner. They are a little difficult to get on, and there was the problem for me. With the bunion on my right foot, the struggle was too much, and I didn't want to ruin the boot. They were also a little hard to take off - but that's not uncommon with a riding boot. The look is classic and clean, the styling sleek and understated, exactly what I wanted, but for me, it was the problem with my right foot. I loved these boots - but they didn't love me back. :-( So sad!!!

Reviewed by BZ from Minnesota on Tuesday, August 27, 2013

Boots are well made and fit nicely. They were just too tall and came to my knee-cap. Be aware that they are 19 inches from floor to top edge of the boot!