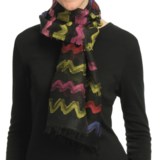 Closeouts. Waves of color emulate a heartbeat pattern in Asian Eye's Heartbeat scarf, lending a vibrant, artistic touch to any wardrobe atop a silky-soft blend of light linen and luxurious TENCEL®.
Average Rating based on
10
reviews
3.600000
0
5
Verified Buyer

Reviewed by Nancy from Pennsylvania on Friday, May 15, 2015

I ordered the red version of this scarf. The design is attractive, the colors are vivid. and the price is inexpensive. Unfortunately, the fabric is very scratchy. "Silky-soft blend of light linen and luxurious TENCEL®"??? What a joke.

I'm hanging onto the scarf partly because it's pretty, but also because it costs more to return it than what I paid for it. I can wear it with collared blouses or turtlenecks to keep the itchy fabric away from my neck, so it's not a complete loss.

As they say in Rome, caveat emptor. If a deal seems too good to be true, it probably is.

Verified Buyer

Reviewed by Julierooski from Ohio on Wednesday, April 22, 2015

Short and itchy. Returning

Verified Buyer

Reviewed by Anonymous from WI on Saturday, February 21, 2015

Prettier than the picture. The colors are muted but vibrant at the same time. That sounds strange, but don't know how else to describe it. Was rummaging through my scarves yesterday, which include other black and white scarves and many others in various shades of red, and this one just stood out. The patten, textures, and fabric just blend beautifully.

Verified Buyer

Reviewed by trail tripper from seattle on Wednesday, February 4, 2015

this scarf has a very faint sheen to it making it look elegant in the white/silver/black pattern. It's very light but cozy.

Reviewed by mw from santa monica on Wednesday, December 24, 2014

I was worried about the Tencel content as I like pure fabrics but was overwhelmingly moved
by the beautiful colors in the black scarf with the hit of blue. Needless to say the scarf is
wonderful and the linen makes this another Asian Eye winner. Another reviewer mentioned
that it is scratchy but not with a turtleneck which I mostly wear in the winter. It's a gorgeous
scarf over a coat or undergarment.


Verified Buyer

Reviewed by Singer from Northwest on Wednesday, November 26, 2014

No long enough and fly-weight material. Doubt I will use it.

Verified Buyer

Reviewed by AMS from San Francisco, CA on Friday, May 2, 2014

I ordered the black scarf with colored zig zags. I loved the color and look of the scarf, but I didn't realize it would feel scratchy against my neck. It is a dry clean only item, so I was afraid to wash it to try to soften it. I decided to return it, and ordered a cotton scarf by Asian Eye in its place.

Reviewed by AnnaLaurie from Arizona on Thursday, January 30, 2014

This scarf has a knack for being fun and dressy at the same time. I'm going to enjoy it, and got an extra to give a friend.

Reviewed by Cappachino from Eden Prairie, MN on Tuesday, May 7, 2013

Love this one! Mine is Black and white and can be the pattern or blend with other black and white patterns. It will be a summer favorite, Nice weght of linen. As fun with jeans as with a cute summer dress! Because its linen it wrinkles easily but it looks OK scrunchy too!

Reviewed by unknown from unknown on Wednesday, April 3, 2013

This doesn't feel like silk. It has a different, but unobtrusive feel. But it so warm. Keeps out the chilly wnd so well. An amazing garment, especially for travel...