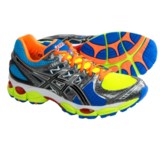 Closeouts. Lighter, sleeker and full of its legendary plush cushioning, Asics GEL-Nimbus 14 running shoes offer GEL® underfoot pads, a memory-foam-lined collar and an instantly customized fit.
Average Rating based on
31
reviews
4.870967
0
5
Reviewed by josh berkowitz from new york on Monday, March 24, 2014

exactly what i expected running in these makes it like running on clouds

Reviewed by TheKid from Ulaanbaatar, Mongolia on Sunday, January 19, 2014

I originally ordered these shoes while out of the country - when I got home the shipping invoice said size 12 was what I had ordered, size 12 was written ont he box, but the shoes were actually 11.5. I called Sierra Trading Post customer service and had a fantastic woman from Wyoming help me out - she got my shoes reordered, took care of the shipping costs, made suer I got the same price, and gavce explicit directions tot he warehouse staff to ensure I got 12's this time, even telling them to open the box and make sure the shoes had 12 on them. They came before I left the country again and they are fantastic. Love Sierra Trading Post!!!

Reviewed by High Altitude Runner from Colorado on Wednesday, January 1, 2014

5 years ago I tried the numbus and they were terrible. I got these for christmas and have already run 55 miles in them and they are Great!!!@!

Reviewed by climberdude from New Mexico on Sunday, December 1, 2013

I like new balance, but this shoe offers more comfort and arch support. Good shoes.

Reviewed by kevinvu from sunnyvale, california on Saturday, November 30, 2013

In shoes that don't have much stability, my arches ache or I get plantar fasciitis. The Nimbus was very comfortable and supportive yet fairly lightweight. I was able to do longer runs without pain. I love this shoe. It offers plenty of cushion and support. It felt lightweight.

Reviewed by doc from Colorado on Monday, November 18, 2013

I had recently purchased the nimbus 15 running shoes and just loved the extra cushioning in them, especially as a novice runner with several knee surgeries behind me. I purchased the Nimbus 14 hoping it would give me the same kind of comfort, and cushion. These shoes have lived up to my expectations and then some. They have the same great cushioning and work well with my type of pronation. I use them while trail running and they seem to work well for that as well. A KILLER deal!!!!

Reviewed by Fanatical Frank! from St. Louis, MO on Monday, November 18, 2013

I was so excited to get my new running shoes based on the many 5 star reviews I read...I had been running too long on my old Asics and actually had some foot issues because I waited too long...issue were corrected immediately when I ran with my new GEL-Nimbus shoes, but I'm having blister problems now on my longer runs on right foot arch under ball of toe on inside of shoe...have to use vaseline with bandaids - blisters are not a runner's friend at all!...Hope this situation rectifies itself, or I'll be looking for a different pair...

Reviewed by RunningWalker from Idaho on Sunday, November 17, 2013

For the price that Sierra Trading Post charged for these running shoes I could not pass them up. Asics have been in the top of the running shoe market for years but the running shoe companies charge way to much for their product.
Sierra charges a fair price for these shoes.
For those runners that need extra cushion the GEL-Nimbus fit the bill, although I still replace the sock liner that comes with the shoe with a insert like Sof-Sol.
I had my entire lumbar fused this past year and for my recuperation I must walk. The therapist has me walking to a metronome at a 150 bpm pace for now. Soon I hope to be running again.
These shoes are a dream on the road, or the trail and with these colors you will never lose your feet. Happy Running or Walking.

Reviewed by JimtheRunner from Muskego, wi on Monday, October 7, 2013

I have been a big fan of Asics Kayano for my last 2 pairs of shoes. I thought I might try the Nimbus because I heard they have lots of support built into them. I wasn't dissapointed with Nimbus. The support is great and the price was great.

Reviewed by Matt from Oklahoma on Thursday, October 3, 2013

I have had Asics for years. This shoe is very comfortable and Sierra had the best price.