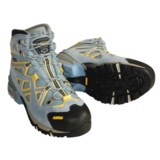 Closeouts. Asolo Attiva hiking boots provide the waterproof breathable protection of Gore-Tex®, superior support and comfort, and Old-World quality.
Average Rating based on
212
reviews
4.570754
0
5
Verified Buyer

Reviewed by shejd from New York on Tuesday, January 13, 2015

I hike daily in the woods by our home. every season brings it challenges. these boots are for winter and fall.
on the first day I wore them this winter I noticed my feet were much warmer in my new boots. not too heavy, good traction.
so very happy with these all in all......

Verified Buyer

Reviewed by Guest from Iowa on Friday, October 17, 2014

This is the first pair of shoes I have ever bought online without first trying them on in-store, and I couldn't be happier. They are very supportive and comfortable! The yellow color is fun.

I normally wear a size 10, but I got a 10.5 so they fit well when I wear wool socks and sock liners.

Reviewed by My two cents from West Coast on Monday, August 11, 2014

I got these specifically for my 4-day Inca Trail trek. Previously I preferred to wear trail shoes so this was my first pair of heavier boots with ankle protection. Even though these were heavier than what I'm used to, they were extremely comfortable from the start. I broke them in within a couple of hikes without any issues. These boots became my best friends during the trek since they were so sturdy, giving me peace of mind while hiking over miles of uneven terrain and slippery steps. It also rained pretty hard on a few days of the trek and my feet were completely dry. I recommend these whole-heartedly for hiking over rugged terrain. Maybe not the most feminine style of boots, but they will certainly give you peace of mind. The last thing you want to be doing on a trek is thinking about your feet.

Verified Buyer

Reviewed by Valerie from Singapore on Monday, June 30, 2014

I bought these boots for a multi-day backpacking trip this summer especially since my trusty Vasque Mantra trail shoes are wearing out from several seasons of hiking on rocky slopes. These boots have a nice construction and are very solid. The toe box is roomy and looks like it can take a lot of abuse. I wore them straight out of the box for a 5 mile hike and had no blisters whatsoever.

There is however, a slipperiness problem that was highlighted by previous reviewers. It's very likely due to a layer of wax/varnish at the bottom of the shoe - further confirmed when I ran my fingers over it and felt a white, dusty layer. I rubbed the bottom of the shoe on gravel for a bit and it didn't feel as slippery anymore. Lightly sandpapering the bottom should solve the problem.

DO NOT take this pairs of boots to anywhere with ice on the ground or loose rocks before treating the bottom first!

Verified Buyer

Reviewed by Anonymous from Grand Haven, Michigan on Monday, May 19, 2014

I just received these boots and wore them once. Are very comfortable with lots of toe room. I have a hammer toe and did not have any discomfort in these. They are top quality. I plan to hike the Grand Canyon in them in the fall .They are true to size. I wear a size 10 and they are right on.

Verified Buyer

Reviewed by Ana from California on Saturday, May 17, 2014

I bought these boots with intentions of some heavy duty hiking (Mt. Whitney and training hikes) and they don't disappoint! They are very comfortable right out of the box, but I broke them in within the first short hike. No blisters, rubbing, or sore spots! They really are waterproof (fell into a stream), comfy goretex inside lining, lightweight, and sturdy. I have a narrow foot, and these fit well and run true to size. Once I wear them out I will definitely want another pair! ASOLO ROCKS!

Verified Buyer

Reviewed by JoAnne the field biologist from Argentina on Friday, May 16, 2014

I couldn't be happier with the fit. Same as my normal shoe size, giving me room for a medium weight hiking sock and ample space for my toes to move, a plus on the mountain descents. Meanwhile the fit in the heel is perfectly snug, where other shoes slide up and down enough to cause blisters. I doubt these shoes will require breaking in. Main objective in buying these is to avoid wet feet in southern Patagonia during field work. Up to now all my leather, waterproof hiking boots have leaked after a few hours in the pouring rain, even after greasing them religiously before each use. We'll see how these Asolo's hold out to heavy precipitation and for how long the Gortex quality lasts. For now, I'm a happy hiker to be.



Verified Buyer

Reviewed by Sherry from PA on Thursday, May 8, 2014

This is the first pair of Asolo boots I have ever owned. It seemed like they are sized a half size large, but I had read that on other reviews. I needed the extra room for heavier socks. Wearing them the first time, I had a slight rubbing on my right Achilles area, but it never blistered, and the bot itself was very comfortable. Hope to have many more adventures in these boots which are well worth the money I paid for them.

Verified Buyer

Reviewed by Jolene from Boulder, CO on Tuesday, April 22, 2014

l love these boots. This is my 3rd pair. I work for the Forest Service and put many many miles on them. I just bought my 3rd pair and they came right away. 2 days later I threw them on my feet and went to MOAB for the weekend. They fit like a glove. I think they fit to size. I have high arches and they fit perfectly. They are slightly stiff but not really. After my first 5 mile hike, no blister or anything!

Verified Buyer

Reviewed by Mo from Tucson on Saturday, April 19, 2014

I can put on the Asolo Boots for the first time and hike 10 miles - no blisters. They are great.