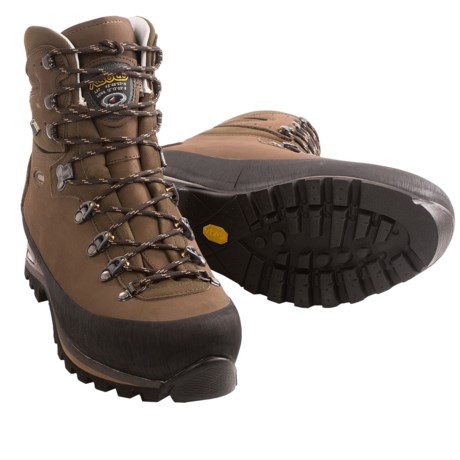 These Asolo boots fit true to size and still have ample room for a thick wool socks, so if anything they may run 1/4 size big but that should be expected in a heavy duty backpacking boot meant for long hauls. I thought about ordering a size up but but am really glad I didn't. If it helps, I don't have wide feet and use Scarpa 44.5, and Columbia size 11 (they tend to run small).

Asolo-Bajura-Gore-Tex-Hiking-Boots-Waterproof-For-Men, is what I purchased... I always wear a USA size 12, and the size 12 USA in the Bajoura style, is correct for me...

The boots i ordered are a true fit. I would order the size u wear.

Hi there,

Before ordering them, you should know this: Boots elasticity is nowhere near what you are used to with a Merrell. They are Romanian made, not Chinese, that's a good thing. Insoles are useless. After an 11 km mountain trek last weekend, they stood firm all the way, but I begged God the trek come to an end. Underneath my both feet are sore due to the stiffness of the boots. I have never felt this way before although I trekked and climbed much longer routes. Size-wise I wear 10-10.5 in trekking, backpacking boots, 11-11.5 in mountaineering boots. I ordered 10.5 they were perfect fit, toe space is there even with a thick pair of hiking socks. Good luck in you preference.