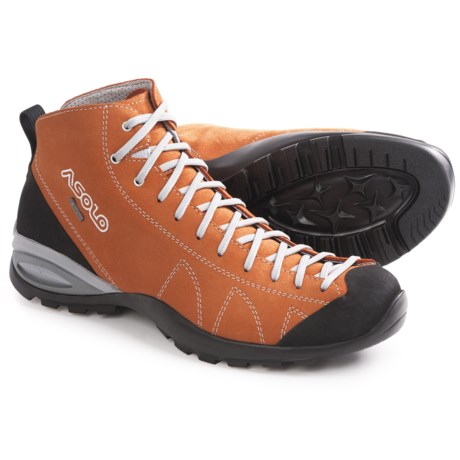 First Impressions: AWESOME!!!
Reviewed by Dave L. from Visalia on Monday, December 7, 2015
So, for context, I am comparing these to my old pair of Hi-Tec Valkerie boots (yeah, okay...please don't laugh at me...I know that I was a newbie when I bought those) that gave me back pain and impacted toes after day hikes (all under 8-mile, round trip). I knew that I needed to ditch the heavy and clunky boots (like the Hi-Tec pair) that lacked supportive lacing, so I started looking at mid-t- light weight boots with lots of lacing - especially across the top of the foot, which will prevent the feet from sliding forward on descents and impacting the toes in the toe box.

Found these gems in the elephant color scheme and received them today! Boy, are they handsome shoes...and I've never referred to shoes as "handsome" before.

I put tried them on with a pair of mid-weight wool socks, cinched the laces securely, and walked around in my living room for about 10 minutes. And despite having shovels for feet (yes, my feet are wide enough for any number of yo-mamma jokes), the Asolos never felt uncomfortably constrictive. The soles were grippy on slick laminate flooring, and the support gave me confidence - I could see myself scrambling over granite boulders much more efficiently in the Asolos than in the cheap Hi-Tecs.

If anything, I might purchase some shock-absorbent inserts to go in them, but I am hopeful that I found the best boots for me. I can't wait to try them out and break them in this coming weekend with a light hike in the Sequoias! Weather permitting, of course.

Caveat emptor: I perfectly realize that these aren't backpacking boots, or mountaineering boots, and anyone looking at these should realize this as well. These are boots designed for temperate weather day hikes; where one goes out to see nature, and might occasionally and accidentally step in a shallow puddle. I don't really feel like these were designed for poorly maintained trails, blazing your own trails, or wading through creeks. If you're looking for something like that, there are tons of great options on Sierra Trading Post that will fill such niches.
Most helpful negative reviews
Similar items and more information in the following areas: