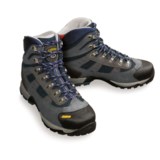 Closeouts. Asolo's Echo hiking boots are just the ticket for a day of hard hiking and feet that need better than average support.
Average Rating based on
418
reviews
4.454545
0
5
Reviewed by Igor Lytkin from I am from Russia, Arkhangelsk region, Severodvinsk. on Thursday, April 3, 2014

This is my first pair of Asolo. I had boots for about half a year. These shoes are surprisingly comfortable, with great support. Their metal hooks will allow you to truly relax, relieve pressure and tension on foot if You walk in boots. They keep your feet warm and dry. I use them all day. The boots are good in any weather in snow and ice.

Asolo is one of the best boots, and I, most likely, will buy again.

Reviewed by Too far from the AT from Cincinnati on Saturday, March 15, 2014

My first pair of Asolo's held up for about 9 years and many hundreds of miles. They were comfortable from the start, like putting on an old pair of tennis shoes. I fully expect the same from this new pair and I'm confident that I made another good investment.

Reviewed by Tim from Great Falls Montana on Monday, February 10, 2014

Best boot ever period good traction in all terrain out wear all outhers two to one, and oh ya best all day comfort yet.

Reviewed by Yakman from Findlay, Ohio on Friday, January 31, 2014

The Asolo Echo Boot are possibly the best boots on the market for all around use. My current pair, purchased in 2009 have been worn well over 800 times. With the exception of the waterproofing, which failed sometime in 2011 after an estimated 450 uses they are in nearly perfect condition. The soles show very little wear, the clasp, rubber toes, and side material are all still 100% intact! They have traveled with me from Acadia National Park to the Great Smokeys numerous times, they even spent three weeks in South Africa. To this day they are most comfortable shoes (just not boots) i have ever owned. Extremely supportive and rigid. A few days of break in and they seem to mold to your feet. Best for: Hiking, Backpacking, Casual, walking, round town, work, etc.

Reviewed by D T from MN on Thursday, January 9, 2014

2nd pair, really durable compared to other brands I've tried, fit is great, good arch support,love them except... My feet get cold much more than any of those other boots- even with wool socks! But I still love them!
I'm going to try a goretex style next.

Reviewed by Ozark hiker from Missouri on Sunday, December 8, 2013

I bought a pair of echos 2 years ago, 9.5 wides and tan in color. I have been very pleased with these boots, the best I have ever owned. I also really like their simple and subdued appearance, nothing fancy or crazy, just functional looking. Asolo, please produce more of these boots, people love them!

Reviewed by Johnny the hiker from Pennsylvania on Thursday, September 26, 2013

I was doing my usual cost compare with other sites and Sierra had the best price for the boots I was looking for. I am very particular about who the vendor is, but the speed in processing the order was superb and the product and size are PERFECT!! Great product...great service...Nuff said!...oh yeah...LOVE the boots!!!

Reviewed by UpInIdaho from Idaho on Friday, September 13, 2013

Seem very well built. Soles feel slick out of the box but since I returned them did not get to test them. To be honest every boot I've worn without a slip resistant sole is slick on wet surfaces. Had a indentation where your toes push down on the soles. Returned them because of that and I wasn't really liking the color. Ran true to size. Ordered a 10W and it fit correctly. I will be trying Asolo again.

Reviewed by The Librarian from Kansas on Tuesday, August 20, 2013

My husband really like the fit of the Asolo Echo, but wishes it had the 3rd set of open eyelets like the Asolo Fugitive has.

Reviewed by Tyler from Massachusetts on Friday, August 2, 2013

Asolos are my first choice when looking for work boots to use in my field of work as an arborist. They are both comfortable and durable. The treads are heavy duty and uppers can take a lot of abuse.