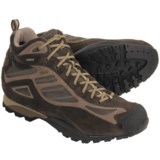 Closeouts. It's the Gore-Tex® guarantee that feet stay dry, and these Asolo Everland GV hiking boots demonstrate it with their waterproof breathable Gore-Tex® membrane -- a wall that blocks moisture but lets perspiration escape. Vario Asoflex technology combines a flex-correcting TPU shank and molded EVA board for comfort.
Average Rating based on
118
reviews
4.127118
0
5
Reviewed by Russell from Texas on Monday, January 6, 2014

First pair of "real" hiking boots. Have only worn them around for about 2 days. Will be going on a 4 to 5 day backpacking trip in WY this summer and needed some boots. So far so good.

Reviewed by Gordon from Bisbee, AZ on Thursday, November 28, 2013

I have used Asolo boot for years and I have liked every pair. The Everland boots are very light
and sturdy. I hike in Alaska in the summer and in Arizona during the winter. Very different hiking
conditions, but the boot does well in all situations. I am most impressed with how light they are
and the great support and protection on rocky trails.

Reviewed by Maniac Menzo from Santa Barbara and Beyound on Tuesday, November 19, 2013

Day hiking and light weight back packing

Reviewed by Deadhoss from Canyonlands on Saturday, November 16, 2013

A Horned Toad would be envious the way the Everlands stick to slickrock. And, the Vibram sole is just thick enough to keep the canyon stones from "massaging" the feet uncomfortably. Did I mention comfort? Right out of the box! The high tops will keep sand out of boot but do not inhibit ankle flexibility. (A stiff top hiking boot could "getcha kilt" while scrambling slickrock). If you hike slickrock, this is the boot.

Reviewed by Charli from SC on Thursday, November 7, 2013

I've never owned a pair of Asolo shoes of any kind, but heard they were "good". I love them so far - they are light, more like a pair of running shows than hiking boots, so my legs don't get as tired at the end of the day! That is a PLUS! My feel love them so far!!

Reviewed by Best Wife in the World from Southern California on Sunday, November 3, 2013

I have purchased Asolo bootwear for both myself and my husband. I love this brand. My husband is a carpenter and is one his feet 75% of the day. He is a tough customer as well as a tough sell................but he loves the Asolo Everland GV Gore-Tex Hiking Boots I recently bought him. Now he swears by Asolo. You won't regret the purchase. They are as promised.

Reviewed by Nobozo from Beautiful Central NY on Thursday, October 31, 2013

I originally bought the Asolos back in August and wrote a favorable review. I still feel the same about these boots.. they're very comfortable, fit well, and are a great value. I did however need to return them, which Sierra made as painless as possible.. what great service! The issue I had with the first pair is that they weren't waterproof. After only a few month I hiked the pups after a heavy dew and my feet were soaked. Hopefully the first pair was a fluke and the replacements will be fine, have yet to test them.

Reviewed by Bryan from Patapsco St Park Md on Sunday, October 27, 2013

Great traction, great heel cup support. Not the best anckle support but it never claimed to have it.Very light and nimble shoe

Reviewed by Greg from Lexington, VA on Thursday, October 17, 2013

This is my 3rd pair of Asolo boots (all have been different styles). They are true to size, feel great and best of all they are waterproof. My job requires me to be in all weather conditions so it's important for me to have dry feet. I would highly recommend this brand / shoe to everyone!

Reviewed by Wanabmd from Edmond, OK on Wednesday, October 16, 2013

I only had these for a few days so the validity of my review may be wanting. I own 4 other pairs of Asolo hiking boots and another (low top), hiking shoe. The brand has proven itself to me time and again, trail after trail, mile after mile and these seem like they will prove no less proficient as the rest of the lineup. Before you buy understand that these are a trail shoe first, then a hiking boot, but never a backpacking boot. Asolo's Fugitive is a great backing boot! When considering these think more along the line of a very good approach shoe, if you don't climb, then think a heavy duty boxers shoe. These fit like a glove, are very pliable, light weight and have an incredible vibram sole. I'm using them for airline travel and not because they're easy to take off at the TSA stops because they're not. The lacing is a bit of a bother, but like the mountain biker said, that aspect makes them safer for certain applications where you don't want speed-lacing eye hooks sticking out, (like egressing an aircraft...or anything else for that matter). They're light enough to pack, or wear, for travel where as my Fugitives are monsters (size 14 feet here). Looking forward to putting them through their paces this Thanksgiving holiday on a few AT day hikes. The short answer is this PROS: Light, form fitting, attractive on the foot, great sole, feels like I can climb all day. CONS: laces are slooooow, but do allow a complete foot-wrap effect. Can't comment on water proofing, but if they're like the Fugitives should be dry as a desert bone.