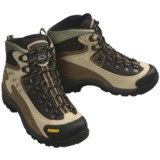 Closeouts. Ultra-durable and water-resistant, Asolo's FSN 85 hiking boots can handle almost any trail on your topo map. Experience why Asolo's FSN collection received Backpacker's magazine "Best Backpacking Boot" award!
Average Rating based on
587
reviews
4.413969
0
5
Verified Buyer

Reviewed by Mael from Idaho on Friday, May 9, 2014

Very stiff boots. I like Merrell boots better. Will be interesting to see how long they last. I spend a lot of time outside and wear out boots pretty fast. I'm pretty happy with these boots only that they are very stiff and a little like walking with ski boots on.

Reviewed by bowhunter gary from az. on Friday, May 2, 2014

Like others I agree they are very stiff out of the box.Longer break in period , but far and away the most durable hiking boot I've ever had. I've had my first pair 22 months and the boot is still supportive , the sole is worn down to nothing, but I've never had a boot last a year. I've had 6 pair of vasque, 4 danners,keen, merrils,timberland and just amazed how durable they are. I,m very hard on everything and already ordered my second pair. I,m 6'2 and 215 lbs.,so they do take a beating. Buy gel insoles and you'll be fine.

Verified Buyer

Reviewed by Always Oudoors from Northeast Pa on Wednesday, April 16, 2014

Like other reviews, I agree they are stiff out of the box. I have worn them twice to work to break them in a little and I feel them giving a little. I think a few more days to work and they will be one of my favorites.

Reviewed by Johnny Boy from Connecticut on Monday, March 31, 2014

I've ordered these for about 5 or so years and have never been disappointed. I wear these boots everyday as my everyday shoe and they fit comfortably from day one. It's an extremely comfortable, firm boot that lasts. I get about a year's worth of use wearing them everyday, for not only hiking but for working around my property. I'm on my feet 16 hours a day and the Asolo FSN 85 holds up. I hope this model is never discontinued.

Reviewed by Dan Higgins from Big Sur on Wednesday, March 19, 2014

After about two hours of wearing these the bottoms of my feet became very tender and started hurting. I took a boot off and pulled out the sole and do you know what I found? Just under the sole is an extremely hard piece of plastic that covers the entire area just underneath the sole. Who in the world wants that? Extremely hard and uncomfortable.

Reviewed by Matt Christiani from Traverse City, MI on Monday, February 10, 2014

My first set of Asolo boots and I must say I'm pretty impressed. These things are STIFF right out of the gate but loosen up after a bit of wearing. If you are planning on a serious hike in these I would recommend you get them at least 2 months ahead of time so they can be broken in correctly. Outstanding fit and finish.

Reviewed by JDR from New York on Saturday, January 11, 2014

Excellent high quality shoe that I ended up paying less than half retail!

Reviewed by CG hiker from KY on Thursday, January 9, 2014

Great fit. Only hiked 3 miles but very comfortable. Wide, needed extra socks but I was impressed with the look and fit.

Reviewed by Lebayer from Spokane on Monday, January 6, 2014

Wanted to wait a bit on reviewing this boot. Conditions here are terribly icy and it's difficult to work the boot well. It is built on a narrow last, apparently typical for Asolo. Works fine for me because I wear an 11.5 B shoe. Surprisingly, given how narrow the boot is, the heel pocket is not proportionately narrow. I get some slippage with the standard insole but much less with a slight heel lift. The guy at REI told me I'll get even less lift when the boot is fully broken in. Don't anticipate a problem and can't help but be impressed with the quality of workmanship throughout. Am anxious to use them in hot weather and don't think I'll be much bothered by the lack of Goretex and cool boots are a blessing. So, if you have a narrow foot, these are fine boots.

Reviewed by Jason on the frontier from Worldwide on Friday, January 3, 2014

I love these boots! I bought them for everyday wear, I work on uneven terrain and I'm a big guy with flat feet and need good boots with good support,these boots provide that. With most boots I can feel every rock beneath my feet, these boots make me feel like I'm walking on flat terrain. I wish Asolo would make these in a gortex model. If you want great boots at an affordable price, I would highly recommend these boots.