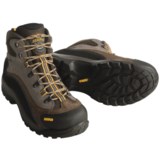 Closeouts. Winner of Backpacker Magazine's Best Backpacking Boot award, Asolo FSN Gore-Tex® hiking boots are ready to take treks to greater heights.
Average Rating based on
2715
reviews
4.460773
0
5
Reviewed by dmv22lpd from SW Florida on Tuesday, July 14, 2015

I purchased a pair of Asolo FN 85's a year and a half ago from STP. The price was reasonable...and right out of the box they were comfortable...stiff, but comfortable. The boots offered the stability I was hoping for both in the shank (on hard rocks) and torsionally to add ankle support. Kudos there. The disappointing part. I did not utilize the boots but on two short occasions and neither of them trekking, until just a few days ago, as I vacation in Colorado Springs. The entire sole delaminated on a strenuous descent from Stanley Canyon...a 2.5 mile trail. The left sole ended up coming completely off and the right, upon inspection, looks to be separating also. Now the boots are worthless...and they still look brand new. Sad. No matter how good the deal may be, this has soured me completely from Asolo. I'll save up my pennies and buy Alico Tahoe or Summit boots with a Norwegian welt so the soles can be repaired should there be an issue.

So Asolo leaves me with running shoes to complete several hikes during my Colorado vacation...or the need to purchase a new pair of mid-boots. That stinks! Too bad STP wasn't open yet in Colorado Springs.

Reviewed by Stoyan from Bulgaria on Tuesday, March 3, 2015

I've had two pairs of the FSN 95 GTX boots and I've liked the fit and stability each time. The fit is a bit narrow but my medium-width feet got used to them and ultimately settled in well. As much as I've liked the fit and feel of the boot, I have found both pairs I've owned to be dangerous on any sort of wet, hard surface. Walking downhill on a wet, rocky trail sees me exercising a lot of caution. I recently switched to a Mammut boot with a Vibram sole and there is a profound difference in how confidently I can walk on wet rock or slick dirt. I am surprised more owners of the FSN haven't commented on this.

Reviewed by Geom from Georgia on Monday, February 9, 2015

I have a like new pair of these boots. They have less than 25 miles on them. I had not worn them in a little over a year but deiced to start using them this past weekend. I hiked 5 miles on a paved trail. When I got home I found that the soles were falling off both boots. I called Asolo and they said they were having issues with the soles dry rotting on their boots. It was obvious that I was not the first caller about this problem They offered to resole them but only if I provided proof of purchase. Good luck with that after 3 years.

I am very disappoint in the quality of the boot and the customer service. These were not my first pair of Asolo boots but they will definitely be my last..

Reviewed by Mark from Colorado on Sunday, February 1, 2015

I have a couple of pairs of Asolo boots and love them. These however not so much. The boots are comfortable and did break in very easily. I did one trip on the Upper Mustang in Nepal, and the black material on the sides of the boots started falling apart. I would not recommend these to anyone. The black material started degrading and pieces began falling off in two months.

Verified Buyer

Reviewed by onefatcat2 from WNC on Friday, December 26, 2014

I've been wearing this particular boot for several years. I'm hard on my boots (landscaping work) and these usually will last me about a year. I have tried a few other brands over the years and have had various stitching and upper material failures but never with this boot. These have always stayed together until I wear a hole through the sole. These have always been made in Romania and the quality of workmanship and materials shows.

Reviewed by the jeep guy from Nevada on Monday, December 22, 2014

I bought this from STP 3 years ago. I live in Las Vegas, so they have been in the desert, sand dunes all the way to 2' of snow, mud and some semi technical trails inred rock, Zion National park and Grand Canyon. They were great in all scenarios (of course you have to use proper socks- im fond of merino wool) feet were dry when drench in sweat at 118 degrees, so great breathing ability from them. Moreover, feet were warm and dry in snow and wet scenarios.

Great support, and the soles have an all around good grip. I do not think you could get a better bang for your buck!

Verified Buyer

Reviewed by Nicster from Rhode Island on Saturday, October 11, 2014

The Asolo FSN Gore-Tex Hiking Boots are a great hiking boot. My first hike with these boots was through the wet trails on the Blue Hills in Massachusetts. They felt comfortable with no break-in time needed. They are a quality boot that I feel confident will last me many years.

Reviewed by alex from pa on Thursday, September 25, 2014

Only used them a few times and my feet were soaked any time there was water on the hike. Just checked them in the bathtub and water flows in at the heel

Reviewed by Geologist from Idaho on Monday, June 30, 2014

I have owned three pairs of these and they feel great on my feet. I used them everyday in steep rugged terrain and have never gotten a blister from them. However, the double stitched seam that runs from the toe to the heel consistently comes undone rendering the boots useless. I have never had a pair that lasted more than three months of extreme use.

Verified Buyer

Reviewed by AJ from Europe on Thursday, June 19, 2014

Finally found another pair of Asolos that fit great and are nearly indestructible. I wore a similar pair of Asolo boots for six months straight in the mountains of Afghanistan, with nearly no break-in required, these boots just what I needed. Now I found a place to get them for under $150. Fit is exact, and durability is excellent, these boots are perfect for my needs.