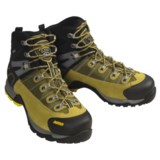 Closeouts. In a pair of Asolo Fugitive hiking boots, nothing will hold you back. Unstoppable uppers are a lightweight combination of water-resistant suede and rugged Cordura® nylon. Gore-Tex® inner linings are completely waterproof breathable to dodge discomfort.
Average Rating based on
1002
reviews
4.572854
0
5
Reviewed by outdoor freak from THE WORLD on Monday, April 28, 2014

Asolo has a customer for life. I have been worn these boots around 250 days a year for the past 6 years. I estimate these boots have between 10 and 15 thousand miles on them. I purchased these boots on my last trip to Afghanistan in 2009. They have been around the world and back and have never let me down. My feet have never gotten wet unless i step in water deeper than the boot. Throw on a mid weight sock on and you're good for the winter. I just ordered my second pair of Asolo boots and if they last half as long as my fugitives did I'll be happy. Minus the mud and the worn out foot beds they boots are still like new. Even the laces haven't given out.

Reviewed by Quist from Michigan on Wednesday, November 20, 2013

These boots are super great. I plan on wearing them for a long time and have only heard great things I plan on puting them to the test this January in Costa Rica and we will see what these things are made of.

Reviewed by Student at large from North Carolina on Thursday, October 10, 2013

Love these boots! This is my 2nd pair of Fugitive boots after trying various other brands and these are the best I have found. They are quick to break in and are durable. I still have my first pair just couldn't pass up getting another!

Reviewed by Tony from Tampa, Florida on Monday, October 7, 2013

I am a retired US Army Special Forces Soldier with over 27 years active federal service. I have had three hip replacement surgeries so footwear is key to my on going recovery and this boot is one of the most comfortable I have ever worn and that is why I purchased so many pairs. I am very happy to have purchased this product and thank you for the discounts it makes a big difference when making the decision to purchase expensive shoes/boots.

Again, Thank you very much Tony

Reviewed by runner97 from Illinois on Tuesday, October 1, 2013

I bought a pair in Sep 2010. They are still in great shape, but I know I will wear them out. So, when I saw them on sale again, I bought another pair.

Reviewed by Al your Pal from Massachusetts on Friday, September 27, 2013

To start I must say that this is a very well built boot. That being said let me tell you about my experience.
I have narrow feet with a low to medium arch. I had pretty much demolished my EMS Summit boots and was in the market for a new pair. So I went down to my local outdoor outfitter and tested the water. I tried on the TPS 520 and the Scarpa Kailash as well as the Fugitive. All three felt great. So I went with the cheaper of the group. They.looked sexy on foot so that kinda sold me as well. I took them out for a 3 mile break in stroll up Mt Monadnock and much to my chagrin my arches killed. I thought maybe it's the inserts which are always garbage on Asolo. (My Summits never had that issue.) So I swapped them out with my NB support inserts and that gladly rectified that.
Over the next few hikes and multi day trips I noticed the seem on the gore liner ran directly on my heel. No matter what I did I could not prevent a hot spot. Upon more wear I started developing blisters. I used liners to help with no relief. I even attempted to broom stick the heel cup. Nothing helped.
Against better judgement I wore them to Capitol Reef. On the Muley Twist cutoff I developed a righteous blister on my right heel. Luckily that was the end of that trip so I had some recovery time. On a subsequent trip to Yosemite I used them to backpack from Glacier Point to Merced Lake and up Half Dome. I developed such bad blisters that they became wounds on my climb up the dome. I treated them and finished up the last 8.2 miles hobbling.
These boots are the only ones I've ever owned that have given me blisters. They are well built, nice looking and stiff enough for multi day. However, the heel cup seem is garbage and the soles wear way too quickly. I've put 150 miles on these and the sole looks like I've put 600.

My opinion : nicely constructed, fix the booty issue and add a Vibram sole.

Reviewed by NW Dave from Washington on Monday, September 16, 2013

These are comfortable, well built, and have worked well backpacking with a 30lb pack.

Reviewed by Duke Nimoy from Colorado on Monday, September 9, 2013

Great boots. Solid soles and took about a day to break in. I normally wear a 9, and these are an 8 (had to do the same thing with another pair of Asolos that I bought).

Reviewed by Backwoods Wyoming Hunter/snowshoer/hiker from Central Wyoming on Sunday, September 8, 2013

As an avid and extensive outdoor enthusiast, I was searching for a replacement boot for the leather Scarpa mid hikers I had warn out. I researched several different high quality boots that could be versatile enough for rural Wyoming. I needed an all-terrain boot for all seasons. I decided on the Asolo Fugitive Gore-tex boots. In their first test, these boots performed very well while archery elk hunting in the Medicine Bow Mountains of South Central Wyoming. Amidst this two day hunt, the boots experienced deep woods, streams, marshy areas, steep ravines and mud. I am pleased with my purchase and would definitely encourage my friends to purchase a pair. They seem to run true to size and they truly are waterproof. This hunter, hiker, snowshoer Wyomingite approves.

Reviewed by Trailhead Rick from North Carolina on Saturday, August 24, 2013

I bought a pair of these boots in the Cortex/Black color about a year and a half ago. I really need the "wide" width, and these are among the few boots in this class and price range that come in "W". When I received my first pair, they fit so well that it was almost like wearing one of my favorite pairs of running shoes! I like to wear a medium-weight merino wool hiking sock, and these boots allowed plenty of room for the sock without being too loose. I use them for part-day hikes, everyday walking when I know I'll be outdoors in wet weather, and for trail maintenance and construction work. These boots look so good, though, that I hated to use them for the really heavy, really muddy trail work, so I would wear my 20-year-old original pair of Asolos for the dirty stuff. They are not as comfortable as the Fugitives - never were, maybe because they are standard width - but they were still going strong after 20 years until the sole of one finally just fell apart a few weeks ago.

So, since I need a pair of waterproof hiking boots for dirty work and another for everyday use, I had to go back to Sierra for another pair! Why mess with a good thing? The Fugitive was still available at the great closeout price (but sold out in the Cortex/Black color in my size) so I went ahead and ordered the Graphite/Stone. A little variety can't hurt, right?

A lot of my trail work involves construction and maintenance of creekside greenways, and I find myself not only slogging through mud sometimes but also splashing through shallow water as I cross the creeks. These boots are TOTALLY waterproof; I've been in water over the laces, and my feet have never gotten wet. The Gore-Tex™ does its job well. And the uppers are durable and very forgiving of mud and grime; at least with the Cortex/Black, they can look really filthy and nasty when I finish a day of trail work, but almost as if by magic they seem to shed the mud as it dries and they look great again the next day!

I really think that the small number of reviewers who have found these boots to be uncomfortable just don't have the right foot shape to be compatible with them. I know my feet, being wide for a fairly small size - 8 - are sometimes hard to fit, and I've found some shoes uncomfortable that others have felt fine in. For whatever reason, these boots just feel as if they were custom made for my feet!