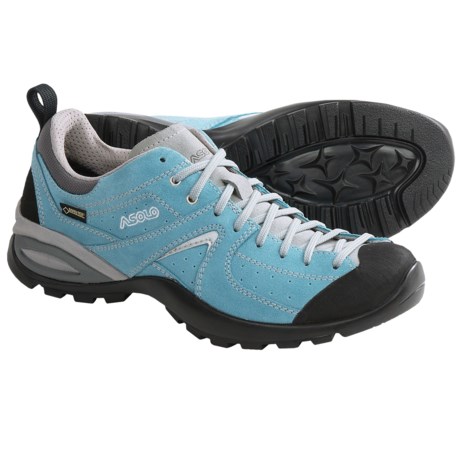 I usually wear an 8 1/2. The 8 1/2 in this shoe fits perfectly. I have wide feet as well. One of the best features of this shoe is how adjustable they are for width. If you wear thin socks, you can tighten the laces. If you wear a thick sock, you can open them up a bit. I have some metatarsal problems a lot of shoes aggravate. No these. They are super comfortable. I can recommend these as I am extremely happy with them.

I normally wear a size 9 and that is what I ordered. Good fit for me with normal weight hiking socks. I were a B width; there was still some play room to allow for thicker socks. Nice arch support too and I have high arches.

I usually wear 8.5 B. I ordered size 8 and fit me very well. Asolo marks size 8 as EU 40, but most of shoes makers will mark EU 40 as US 8.5. I guess 7 might fit for you.

I wear an 8 and these Asolos fit perfectly.

These are not really 'narrow' but I would not say they are wide. More just normal. They have a firm feel which I like for hiking and outdoor tasks.
As for size I'd say these are .5 size bigger in length. They are really nice I think you'll be happy. Good luck! I'd order the 7

I bought mine a half size down from my usual size and they fit. However, I have a narrow foot.

I found the Mantra runs long as I usually wear a 12 and can wear a women's 11 Mantra. I have narrow feet and these were pretty full.
Very comfortable shoe and I like that it is a little more rigid than my Keen's.

I wear a size 8 to 8.5 depending on the shoe. Also of note my feet are narrow. I bought an 8 in the Asolo and it fits like a charm. If you generally buy shoes in a wide width then this is probably not the shoe for you. It is generous and comfortable in the toe area (but not so much so that it's slips). The lacing allows for adjustments almost all the way down to the toe which could make this shoe very comfortable for a wider foot. So, if you can generally wear average width shoes then I would take the chance on these shoes. Please note that there is not a lot of "cushion" in these shoes....they are rugged and sturdy for challenging outdoor terrain. Hope this helps;-)

I usually wear a 9.5, and my 9.5 Asolo hiking shoes fit perfectly. However, I do not have a particularly wide foot, so I do not know if that would make a difference.