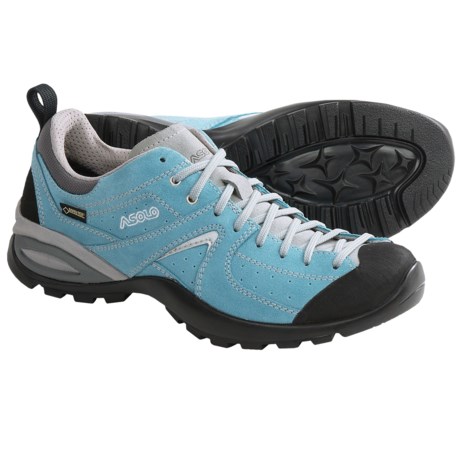 They have no mesh to vent.... but they keep water out. If dry is important, good appropriate Socks with vortex is good. It is cold when I used them, and I wore wool.
I love them, they are comfortable.

I love them. I hike in them. They're stylish enough to wear around town. But they are pretty heavy duty - thick leather, and vibram soles. If you need them for terrain/hiking they're great, but I imagine your feet would get pretty toasty in the tropics. That said, I'm bringing them to the Keys next week, though I expect I'll be in my Chacos most of the time...

Would say yes, too hot for tropics. I don't hike in the tropics but Goretex for me is not the best for hot steamy weather and the shoes's outer layer is somewhat thick, no mesh, only about twenty five small air holes per side.

They May be , it depends on what your doing.If your Hiking get some light weight- wicking socks and you should be ok .I found them too be very comfortable in 70 degree weather, on a trip I took to the mountains,but I have Lt. Wt. socks that wick.Hope that helps.

These do have mesh vents in them and are waterproof, so that may prove to be beneficial in a tropical climate. However, there is not any type of temperature rating. Most manufacturers do not have temperature ratings for their garments or footwear due to the number of factors that affect how warm a garment may keep you.

I think they would be all right; they are extremely lightweight and are cut low enough that I wore mine through pretty hot weather this summer.

No I do not think so. think they have nice grip sole for that kind of adventure too. i would recommend adding some type of insole or orthotic to make them fit well to your foot and improve mechanics of walking.

I just got back from a 2 week backpacking trip in Costa Rica and these shoes were fantastic! My feet did sweat a small amount in these shoes, but this did not cause any problems. They are very rigid, but flexible. We went on several long distance hikes throughout high and low rainforest environments. The fact that the shoes are waterproof is such a blessing too! In addition to our Costa Rica trip, we live in Colorado. These shoes have proven to be amazing in dry, wet, hot, and cold environments. They are very comfortable and durable! Well worth the money, and I expect these shoes will last me years. My only recommendation would be to wear the shoes out and about a bit before wearing them for any long hikes. As I stated above, they are a bit rigid out of the box, but are easily broken in! I LOVE THEM!!!!