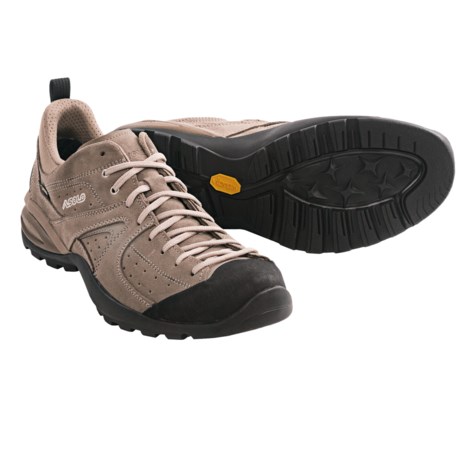 The extensive lace system seems to make the shoes infinitely adjustable. I wear mine in all types of situations and have played with the laces quite a bit to get the perfect fit, so loosening them up at the toe makes room, while tightening them up higher secures the rest of your foot nicely. I've really enjoyed these shoes.

Not quite sure how to answer . However, size 11's almost always fit me well. These Asolos in size eleven are a perfect fit with plenty of room in the box toe, even if I wear a second pair of light duty socks.

I have a wide foot, especially across the ball of the foot, and find these shoes roomy enough. I take a size 9-1/2 or 10 depending one the manufacturer. On these I ordered a 9-1/2 and returned them for a 10 to get more room.

I believe so. I ordered a half size larger then usual as most shoes and boots I wear have a boxier toe. .

For me, I use shoes like this while we are in camp in remote areas, holding clinic, and are not going to be doing much hiking or walking around very far. So, I usually do not use them with extremely thick socks (unless in a very cold climate). I'm usually wearing mid-weight socks, and these shoes work fine for that. If you need a shoe (as I do) where you can be versatile, then yes, you do need extra room, but of course the definition of "extra" can be different for different folks. I've used Asolo boots for well over 30 years, and have never been disappointed. The Asolo company is an old company in Romania that started many years ago by making hand-made boots for mountain use. They were so well made, and durable that eventually they became more and more popular, and the company has spread it's wings now to pretty much all over the world. These shoes are definitely good for hikes and everyday use also. Since they are light weight, they are travel friendly. I go from over 15,000 ft in the Himalayas and Andes, to the jungles of Bangladesh and Burma, and other places; these shoes are versatile enough for me. The usual test for size in packing boots, and trail shoes are when you put them on, with the socks you're usually wearing on trips/hikes, you sit down in a chair, and tap the toe of the shoe on the floor -- your toe should not hit the end of the shoe, unless you tap really hard. If your toe barely touches the toe of the shoe, that can be OK too, but don't wear the really thick socks with those shoes/boots. Hope this helps.

My understanding is for approaches toe room is good. For basic trail, I think its a personal decision about comfort on the trail and what kind of trail hiking you do and so forth. I typically buy approach shoes because I like the feel of the approach shoes more so than most trail shoes but wuth the Asolo Mantra I sent one pair back and ordered a 1/2 size smaller. I am a size 11 but most of my shoes I buy are approach shoes in 11.5 and they usually fit and feel perfect. The Mantra felt too long to me in 11.5 and the 11 is just perfect. I said in an earlier review that I have a standard wide foot and for me,, most shoes are too narrow in the 11 and when I upsize to 11.5 it works out width-wise as long as the shoes doesn't run on the long side with too much toe room or heel room. The Mantra shoes are very precise and just enough width for me to feel a tiny bit snug in. Not my preferred feel but when I get them on the trail they perform and feel like a class act. Love em. Didn't love em at first but after a couple of outings I certainly want to wear them often...and they are super nice looking shoe. I don't want to wear them in the mud for fear they will lose there pizzazziness. Lol.

My feet are a tad bit wide and sometimes buy wide width. These shoes feel fine and do not pinch my feet. I also wear hiking socks.. I recommend these shoes for hiking in wet conditions. I would not recommend them for trail running. For trail running I prefer shoes with much more support.