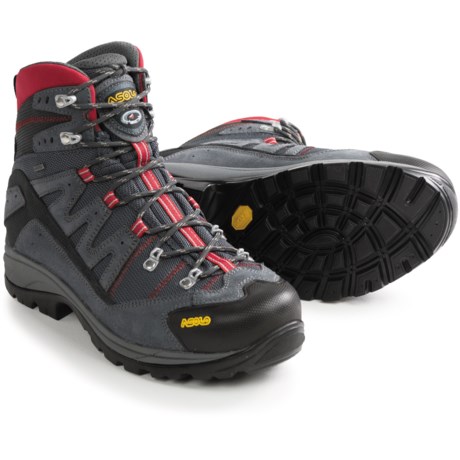 I have only owned mine for a couple of months, but the Vibram sole was just fine on my week long hike in the Teton's, as well as the training leading up to it.

I know what you mean... These appear to be really good soles.
I've run up my local hills just about everyday in them for several months now.
The traction is excellent, there's little sign of wear, no cuts in the rubber, and no separation from the upper..
My feet aren't easy to please (wide and a bunyon on one foot) and these have been great boots for me..
Good luck!

It looks and feels like it should be a long lasting sturdy sole, but I haven't had it long enough to say that with confidence.

Have perhaps a hundred miles on these and no signs of wear on the soles yet.

I've only put about 40 miles on the sole, most of it in the California high desert. However the soles are holding up fine with plenty of traction. I have to say that they are a lot less slippery than my old Vasques on desert varnished

Sole is holding up well. Already been out on a few hikes. Some not so favorable. ( We got really soaked). Brag on my Asolo's to everyone. Thx

So far so good. Just finished the JMT and had excellent grip throughout the journey.

I walk two to four miles over rocky terrain almost every day. The soles are tough. They are a little slippery on wet concrete or asphalt, but for hiking on a trail over rough terrain its a good choice. I wear my boots everywhere except to church.

I cannot speak to the long term durability of the soles. They do, as many, seem to have very good grip but this might make the material less durable in the long run. I wear my boots mostly on pavement and the soles are usually the first to go. These show minimal wear so far but I'm sure that given the way I use my boots, the uppers will outlast the soles.

I only have the winter season on mine so far, but the soles look great still as new. Seem to be a good sole, I'm much happier with the Vibram sole as opposed to Asolo's sole

I can't answer this with authority. My last Asolo boots were FSN95 and after 4 years of heavy use were starting to look pretty worn. The Neutron's seem to have a soft compound but I cannot judge the longevity of the sole yet.

Can't truthfully say how durable they are. Have only had for a couple of months and hiked about 25-30 miles. No problems so far.

As I have only had the boots for one and a half months, I cannot attest to the longevity of the Vibram sole. However, my training environment consists of sandy trails and lots of sharp rocks the have tendency to rip out large chunks of the sole. I just looked at my soles and they were completly intact. The soles are a bit soft, but that helps to absorb some of the shock, So far, I haven't seen this as a drawback to the sole's durability. Hope it helps and hike safe.

I get about 14 months of daily hard use on the job, the sole is usually 1/2 used up then. The grip is good for this model and flex isn't too rigid.

I am on my third pair of Asolos. I get two or three years out of a pair, wearing them for daily one-two mile walks on pavement, and hard use doing farm work. Tough Vibrams. Ongoing pair two years old and looking like new.

They are holding up better than most other vibrams, and I haven't had any traction issues.