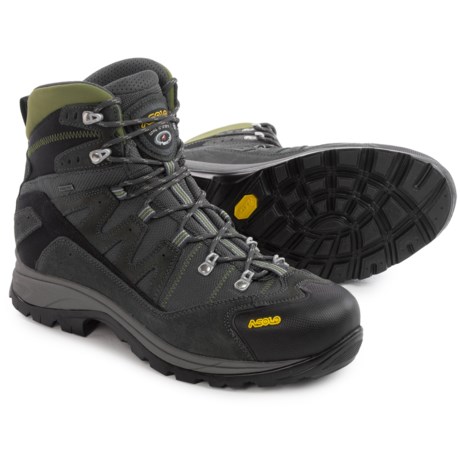 I use spenco green 3/4 length inserts in my neutrons. Try to find the all foam ones as opposed to the hard plastic version. They raise the heel at first yet will "break in" and the heel and forfoot will sink a bit. Love my spencos for my very high arches. Good luck!

I am pretty flat footed these days too. When you say arch support... usually a shoe with too high of an arch because of the insert hurts my feet which are flatter than most. So if heal and toe are good for you, it sounds like there is to high of an arch in the insole. There is a number of insoles out there but the ones that our crew has liked is a gel insert or an insert that you microwave and then stand on it in the shoe. That would give you a little less arch and may help your arches.. which are flat. Local stores like Bass Pro or Sports Authority have kiosk's that will fit you properly.

The fit of a boot can be changed with the way it is laced as well. Try different patters with your laces and see if they conform to your foot better. Try this... http://www.backpacker.com/gear/footwear/hiking-boots/common-hiking-boot-lacing-techniques/



My reason for insert was to achieve a more comfortable/insulated footbed, have tried the cork footbed from my filson boots to get the comfort I was looking for. Still need to order cork footbed

I purchased a size 11 which is my normal size the arch worked fine for a while and then kind of broke down I replaced it with a better arch same size no problem whatsoever

I Liked the first pair so much I bought a second pair. I too am pretty flat footed. To remedy the arch support issue I took out the original insole and replaced it with "SuperFeet" foot support. SuperFeet products are expensive, ca $35 but worth every dime. Good luck

To whom it may concern. You did the right thing. Getting a bigger size. As for the inserts, if you can stop by
an Eastern Mountain store .They have a great selection of inserts to fit your boots sir. If not than try online.
They are a great Boot.and the the best part is , if you can find the best interest you'll love them even better. I own six pairs.Good
Luck.

Markdouglas here - I stopped at a big box sports store and tried the different colors of Superfeet. I liked the black which gives a bit more arch support than the boot. I needed to get over $100 for free shipping on an STP order so I added the black Superfeet and should have them in a week or so. I'll follow up after my next hike with the inserts.
Thanks for all the quick responses on the boots and the inserts, STP rocks!

Sorry I can't give you more specific advice on arch supports, but I'm wondering if you have the same problem with all your shoes (street shoes, running shoes, etc.). If that's the case, you might want to consult a podiatrist about custom orthotics. Just a thought for what it's worth.

6 years In the Army, all in the Infantry, carrying a heavy rucksack. I have hiked Moab, Arches, Kolob Canyon, The Wave, Yellowstone, Yosemite, Smokey mountains, Bryce Canyon, and all over Colorado and upstate New York. As a Combat Medic in the 10th Mountain Division I treated more foot & knee problems than anything else. Often having to treat my own foot problems.
The best insole is "Tuli's Energy Tracks" full length insole, 2nd choice is the 3/4 length Tuli's carbon fiber "Gaitor" insole. After Tuli's Brand insoles my next choice is "Sorbothane" but theses are better for shock absorption and the arch support is only marginally better than the Asolo insole.

Get some Smartwool 20 to 30 mm Hg compression socks!!! These alone will reduce foot fatigue and pain by increasing circulation. I have bought several from STP and exclusively wear Smartwool Compression Socks every day. If your feet aren't happy you aren't happy.


I use the boots just as is and really like them. I purchase my regular size and I am very happy.

Superfeet Insert made a WORLD of difference. It was a last minute decision before I left for Iceland and it was the best decision I could have made.

I have not. The support in these boots fit me well. I would recommend finding a good support or you may try wearing a sock with the layered material which might give you the support you need.